Megan and Lauren Johnson have always been close. Well, it's hard not to be when you're identical twins born just four minutes apart.
Over the past 38 years, they've shared everything and experienced and supported each other through life's highs and lows, including cancer, serious surgery and going through IVF at the same time.
But while their DNA might almost be identical, their IVF experiences couldn't have been more different.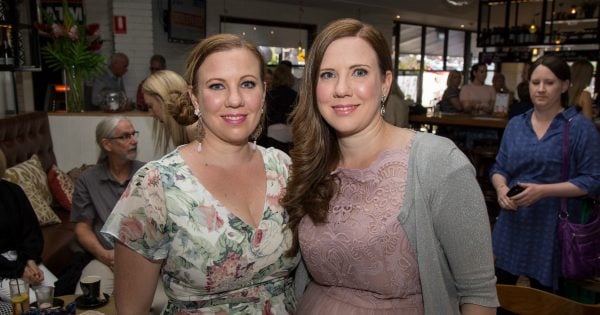 While Lauren fell pregnant first round with daughter Freya and then again the second round with son Finn, it took younger twin Megan eight rounds, a new doctor and more aggressive drug protocols until she held her daughter Audrey in her arms.
"She found out she wasn't pregnant and then two weeks later I found out I was [with Finn]. That was really difficult for both of us," Lauren tells Mamamia.
 "She was happy for me, we are always happy for each other, but really difficult for her to see she had a failure. Unfortunately, it was the first of many failures, so it did wear her down a little bit."
When you're trying to fall pregnant, it's hard enough watching strangers or friends who are falling pregnant, let alone your twin. While acknowledging it was difficult, both sisters say they were able to talk to each other about those feelings.
"We fight liked cats and dogs but love each other viciously. We never argued about this - we're not competitive with each other," says Megan.
"The way I always looked at it [was] she deserves to get pregnant and have a baby and I just have to be the best aunty I can be. If I say to Freya 'Who's my special girl?' she'll reply 'Me!'. I guess it's like having two mums."
Watching her sister go through round after round of IVF unsuccessfully, Lauren says she started to think "crazy" things.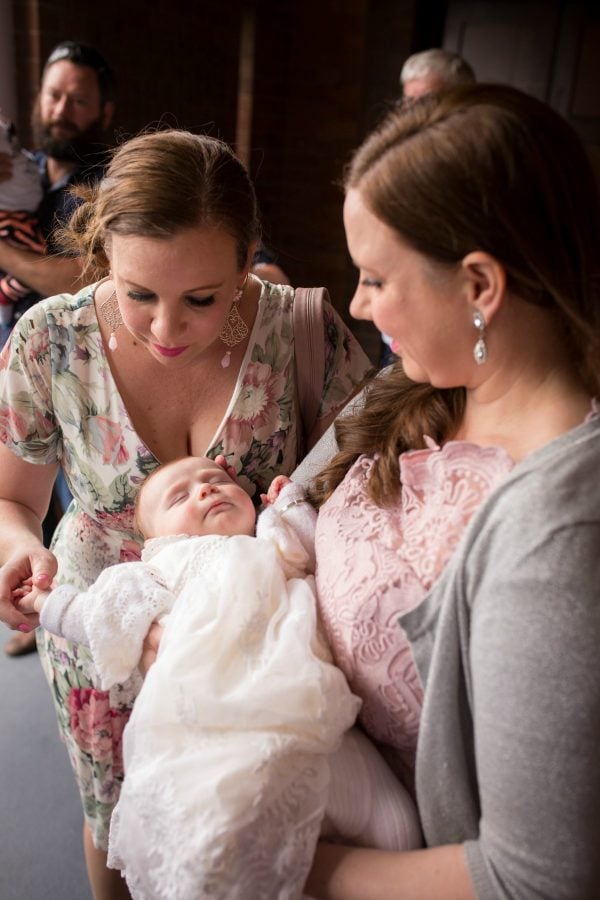 "I was offering to be a surrogate or egg donation, because we are identical as well so our eggs would be the same. I was totally fine with doing it if necessary," she says.
"I'm not sure what other sisters would be like, when it's your twin, you just feel like if you're not happy, she's not happy and all I want is her to be happy, so it was a bit bittersweet. I always want the best for her."
Both sisters had challenging experiences trying to fall pregnant 'naturally' before turning to IVF.
Listen: Do we need to have an honest conversation about age and fertility? Post continues after audio.
Lauren and her husband started in 2012 and tried for a year before deciding to go see a specialist. Tests eventually showed she had extensive endometriosis which had blocked her Fallopian tubes causing her fertility problems. She underwent extensive surgery in September 2013 to get all of the endo cleared out.
"The doctor wanted me to start trying in October but didn't feel like I was physically recovered enough, so we started the following year. We did the first cycle in February 2014 and then luckily fell pregnant with Freya, now almost three years old, on the first round."
The couple had a second frozen embryo from that round but didn't get a successful pregnancy.
"I forgot to take a drug for a few days, the doctor asked and I totally blanked. Dave didn't realise or remind me and if I'm honest part of me still blames it [not being successful] on [not taking the drug]," she says.
Going through IVF a second time was different but not necessarily less challenging.
"You're on drugs, different amounts of drugs and technically the second time round we had less to lose because we already had a baby," she says.
"I wasn't going to be as devastated but at the same time I was equally as nervous because I really wanted to a brother for Freya."
 Finn, the first embryo from the couple's second global round, is now 18 months old.
Lauren's sister Megan and her husband Andy started just before she got married in 2014.
"I knew I might have a problem and an increased chance of infertility issues based on Lauren's experience. We tried for about nine months before we sought further help," she says.
It was actually Lauren who encouraged the pair to get the help.
"She was heavily pregnant at my wedding before we started trying and she was the one who encouraged me to go to specialist, she was insistent saying you can't waste any time. It was selfish on her part - I think she wanted a cousin for Freya!" she says.
Unlike Lauren, doctors were never able to find a proper diagnosis for why Megan and Andy couldn't fall pregnant. They had good eggs and good sperm. They tried many other interventions, including follical stimulating drugs, timed intercourse and Intrauterine insemination (IUI) for a year before trying IVF.
"We got eight embryos when we did our first round of IVF so we were luckier than some but that means we still had seven failures," she says.
Reaching their last embryo was "super stressful".
"I had decided that if it didn't work, we wouldn't try again although my husband wanted to try one more time after that, which meant doing a whole other global round," she says.
For the last embryo, Megan and Andy decided to change doctors, from the same specialist as Lauren to a doctor who had "more of a proactive approach".
"He was really willing to try things and then if it had still failed, at least I knew I had tried my best," she says.
Again, the experience was bittersweet.
"When we fell pregnant with Audrey, we'd put two embryos in and I became pregnant with twins. At 12 weeks, one's heart stopped beating. It was really sad," Megan says.
"As a twin, I was really looking forward to also being a mum of twins.  [I'm grateful that] Audrey is super healthy and despite losing a baby early on, I had the best pregnancy."
The couple say Audrey is the "culmination of such a big, long journey."
"Every bit of love I have for every seven other embryos, she's getting that. That's how we all feel. We would have been so bitterly disappointed if it didn't work, the joy we've got from our miracle baby," she says.
"Sometimes I just cry because I can't believe how lucky I am."
Both sisters' experiences with IVF has taught them valuable advice for anyone considering or going through fertility issues.
"Be aware of your body. If you're trying and if you're not successful, don't wait to go and see somebody. See a speciailist and if you're not feeling confidence in the service you're getting, get a second opinion," says Megan.
Both advise trying not to google everything and say that if they were to do it again (Lauren still has four frozen embryos) that using technology available like new app MiFertility Plan would make the process that little bit easier and less stressful.
The app allows users to store all IVF documents in one place (think clinic appointments, injection times, which medications to take when) and to sync it with both partner's phone calendars. It's also free to download and user friendly.
"I'd definitely use the MiFertility app. Just having that one spot that you could go to and would mean no disagreements between Andy and I," says Megan.
"[The] number of times' we'd both sit in the same appointment, listen and process what the doctors and nurses said and then we'd compare and have completely different notes!
"I'd call the doctor to clarify and he'd say 'You're both wrong'!"
Most importantly, both sisters advise not comparing your experience to anyone else.
"Even as identical twin, our experiences were totally different, we look alike and both needed IVF but Lauren's pregnancy was really straightforward and I was really complex," says Megan.
The twins are closer than ever now. Literally, they live next door to each other.
Freya, Finn and Audrey are all spoilt with love from their parents and aunts and uncles and see each other every day.
"When Audrey came along, Freya was very excited but she still thinks she's my number one!" Megan says.
The free MiFertility Plan App is now available for download from the App Store for Apple devices and Google Play for Android.