Here is a riddle for you.
Samuel was born first, but his twin brother Ronan is older. How is that possible?
Can you get you head around it?
Seems impossible doesn't it?
Well, prepare to have your mind blown.
Because this isn't just a riddle. It is the reality for a family from the US.
You see the twin boys born last week were born at the very time the clocks changed in the US meaning when the clocks went back an hour time played a life-long trick on the tiny duo.
Parents Emily and Seth Peterson went into the hospital late on November 5 when Emily started going into labour.
At 1.39 am on November 6 their first son, Samuel, was born. Thirty minutes later, his brother Ronan was born.
Seems simple right?
On any other night Samuel would be the "big brother" and Ronan forever relegated to the status of the "littlest", but it was the night the clocks changed, so Ronan's official time of birth was declared 1:10am.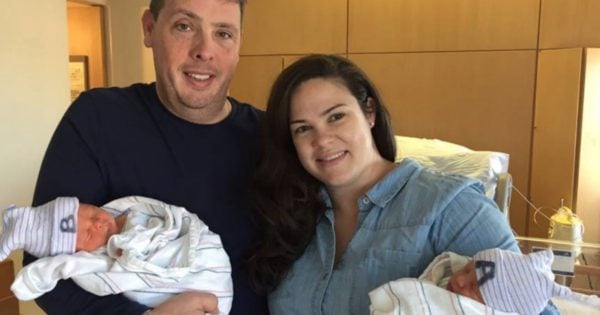 Emily, 32, told ABC News that at first she found it hard to get her head around.
"My husband was the first to say it, 'Here's a riddle for you!'"
"It literally took me a day to wrap my head around it. I didn't realise it was quite that big of a deal until my nurse turned around and said 'I've been working here 40 years and haven't seen anything like that.'"
Seth, 45, said he thought something like this would happen.
"I said, they're either going to be born on two different days, or the time change may come into play," he told One Cape Health News.
But he does think it's pretty amazing.
"I personally think it's kind of cool that one's 'older' and one's born first," he told ABC News.
Watch Rebecca Judd's twins' nursery is incredible. post continues after video...
But in the wise way parents have he did foresee one problem.
"Hopefully they're not going to be fighting over it for the rest of their lives."
Emily told Boston.com she is still trying to work out how she will explain it to the twins.
"I kind of like the fact that … nobody feels second," she said. "Technically Baby A was in the world longer than his brother, but the birth certificate, if you go by that… It kind of depends."
And surely there shouldn't be any problems unless the family home is left to the oldest brother… right?