You might want to invest in some self-tanner. Once you start watching, you won't be leaving the house for at least a month.
September brings many great things to our lives. Warmer weather, spring racing carnivals and the return of all your favourite TV shows, plus a bunch of new ones.
Last week kicked of America's 'fall' TV season, which is when all the really great shows either premiere or make their way back to our TVs in order for us to binge-watch them in our pyjamas with a bottle of wine on a Sunday night.
While we're still getting over the devastation of our favourite shows of 2014 being cancelled (we'll miss you, Kevin Bacon) the 2015 season is already looking very promising.
We've rounded up the best new shows that everyone's about to be obsessed with, as well as all of your old favourites that are back. Good news, everyone. You never have to leave the house again.
1. Scream Queens.
Starring every famous person ever (Jamie Lee Curtis, Emma Roberts, Nick Jonas, Ariana Grande, Lea Michele, etc) this show is the newest brainchild of Glee and American Horror Story creator Ryan Murphy. It's what the TV people call a 'horror comedy'. And it's thoroughly addictive.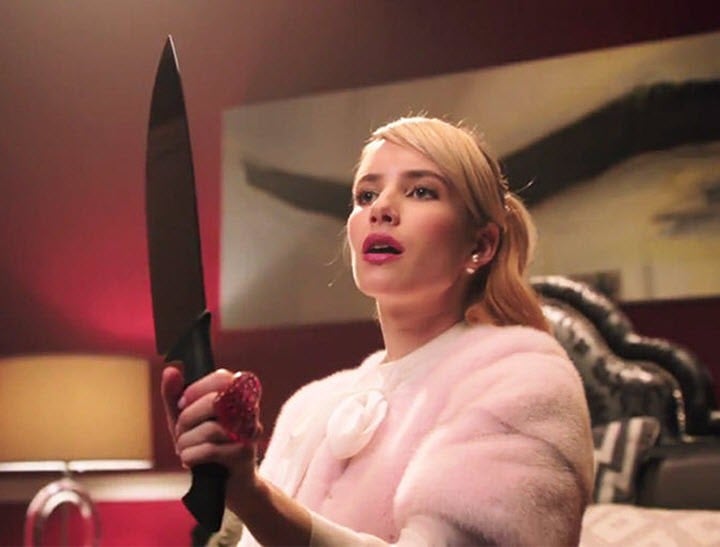 The premise is this: Emma Roberts is Chanel Oberlin, a horrible person who heads up a sorority called Kappa Kappa Tau. After her sorority is forced to accept everyone who wants to join, rather than keep it exclusive, she plans for revenge. Then someone known as the red devil starts killing all the sorority sisters. There's so much going on in this show, it's hard to keep track of the specifics, but one thing is for sure – it's brilliant.