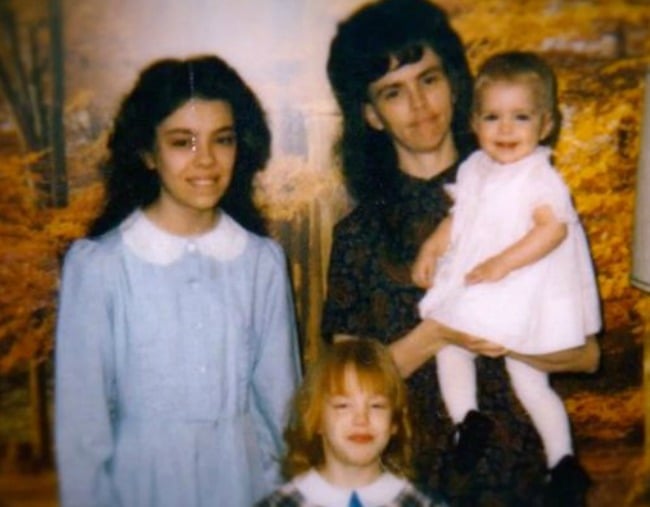 With AAP. 
On January 14, 2018, a teenage girl climbed through a window and escaped her family home.
She then called the authorities.
"I live in a family of 15 people and my parents are abusive," the girl told the dispatcher. "They abuse us and my two little sisters are chained up."
When police arrived at the scene they discovered filthy and malnourished children, chained to the Perris, California home.
The stench was almost overwhelming.
Louise's family talks about how abusive past on 60 Minutes…
David and Louise Turpin were immediately taken into custody. They were later charged with 88 offences including torture, child abuse and false imprisonment. David is also charged with 'lewd acts on a child'.
In the weeks that followed, people from all around the world became engrossed in the story of the Turpins and their sadistic, hidden lives.
Now, during a 60 Minutes exclusive, those close to the family speak about what led to that shocking discovery.
Louise's sister, Teresa Robinette, told the program her sister experienced her own 'house of horrors' as a child, as she took Liam Bartlett back to the family's original Princeton home.
"This is a house of horrors, that's where it all began," a tearful Teresa says as she approaches the steps of the house the two women grew up in.
"She took exactly what we went through and intensified it by like 100 for those kids."
Earlier this year, Robinette went public with claims that as a child, Louise was a victim of systematic sexual abuse.
In an interview with The Sun, 37-year-old Teresa Robinette alleged her late mother, Phyllis, allowed a rich paedophile to sexually abuse her and her siblings as children in exchange for cash.
"Our mum should have been protecting us — but she sold us to a wealthy paedophile," she told the news outlet.
"He would slip money into my hand as he molested me. I can still feel his breath on my neck as he whispered 'be quiet'.
"We begged her not to take us to him but she would simply say: 'I have to clothe and feed you'. Louise was abused the worst. He destroyed my self-worth as a child and I know he destroyed hers too."
Despite this, the family claims they had no idea what was happening inside the Turpin home.
Louise's brother, Billy Lambert, tells 60 Minutes he thought his sister had "the perfect life".
"We thought that she had the perfect life, she had the perfect husband," he said.
While another sister, Elizabeth Flores, has written a book about Louise's obsession with witchcraft.
"She told me she was messing around with witchcraft. It just really freaked me out," she told the New York Daily News. 
Flores told the publication she hasn't had a normal "sister relationship" with her Louise for 20 years, and noticed a change in her when she first met David as a 15-year-old.
Flores also claims the sisters and their cousins were sexually abused as children.
Ricky and Shelly Vinyard spent a decade living across the road from the Turpins in Texas.
Shortly before the Turpins moved interstate, the Vinyards started to suspect there was "something disturbing" about them. When the family left, they decided to look through the empty house.
"It was a house of horrors. A true house of horrors. It was right up under our nose and we didn't see it," they tell Bartlett.
60 Minutes airs at 8.30pm Sunday on Channel 9 and 9Now.