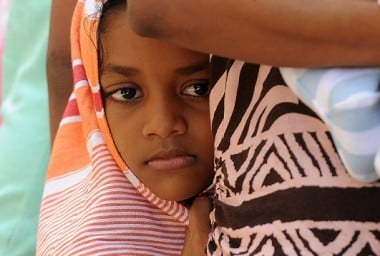 "VICTORY AT SEA", the headline on the front page of The Daily Telegraph reads today.
It's accompanied by a full-colour image of a victorious captain, digitally-altered to feature Immigration Minister Scott Morrison's face.
He's perched atop a cliff while overcrowded boats languish on the endless seas behind him, and the headline next to him boasts: "Exclusive: How the war on boats was won… 1673 asylum seekers sent back to where they came from".
This front page is colourful. It's emotive. It's a feat of Photoshopping, even.
But there's one very problem with it: the 'victory' the headline describes is not a victory at all.
It is a national shame.
As the Asylum Seeker Resource Centre's campaign coordinator Pamela Curr told Mamamia today, the Federal Government's asylum seeker policy is not a victory at sea but "a dirty business at sea".
"It's not a pretty record. Australians cannot be proud of this," she said today.
"The so-called victory is a time to check for collateral damage, and the collateral damage is: we've had a murder in (an immigation detention) camp, we've had a young man die of a minor infection," she said, referring to the deaths of young Iranian asylum seekers Reza Barati and Hamid Khazayi. "(W)e've had women on Nauru have abortions rather than have their babies on Nauru; the conditions were so appalling they could not imagine having babies in those hot tents."
Ms Curr said it was also legally problematic that the government was predicating it's 'victory' on sending asylum seekers back.
"The only element of the Refugees Convention which Australia has in its domestic law is this rule against refoulement, or sending people back to persecution," she said.
"When people are on boats turning people around at sea, there's been no proper process to find out if they're sending people back to be persecuted or to be killed," she said. "We're taking chances with people's lives when we don't properly assess their claims."