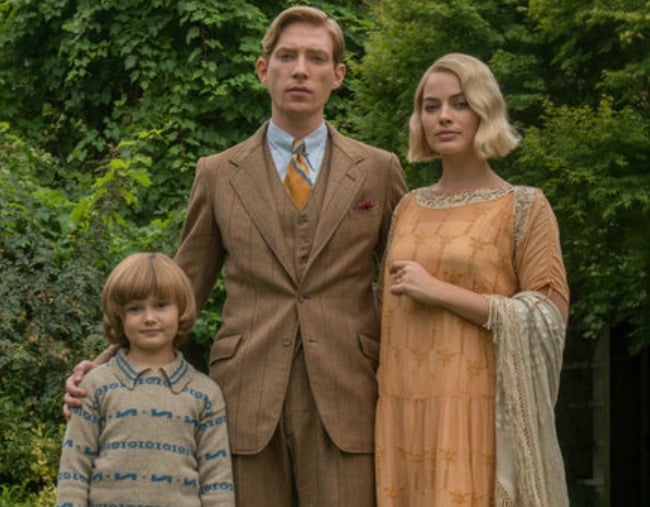 Most of us loved Winnie the Pooh as kids.
The lovable characters of Pooh Bear, Tigger, Piglet, Eeyore, Kanga and Roo held a special place in our hearts – and our imaginations.
But the inspiration behind the original books is much darker than we could ever have guessed.
While we knew the story and the characters were based on A.A Milne's son and his stuffed toys, we had no idea what a tragic childhood that son endured.
The 2017 film Goodbye Christopher Robin tells the story of a sad boy who felt betrayed by the people who should have loved him the most – his parents.
The film is based on Ann Thwaite's book, Goodbye Christopher Robin: A.A. Milne and the Making of Winnie-the-Pooh, and features interviews with the real Christopher Robin, as well as extensive archival information.
Goodbye Christopher Robin tells the true story behind Winnie the Pooh… 
In the movie, author A. A. Milne (played by Domhnall Gleeson) returns home from World War I shell-shocked.
While he's obviously suffering from post traumatic stress disorder, there was no diagnosis or treatment for this condition in the early 20th century.
Once a successful writer, he's also suffering from severe writer's block and seems to be retreating further and further into himself.
Milne's wife, Daphne (Margot Robbie), is a bored London socialite who's more interested in partying than having a child.
She reluctantly agrees to have a baby with Milne, who they name Christopher Robin, but call Billy.
In a rare interview with The Telegraph in 1998, the real Christopher said, "Some people are good with children. Others are not. It is a gift. You either have it or you don't. My father didn't."
Once Billy was born, the family moved to a quiet cottage near the East Sussex woodlands (which would become the inspiration for Pooh's Hundred Acre Wood), and Billy was primarily cared for by his governess, a woman named Olive.
When Billy was a young boy, Daphne left the home for a couple of weeks back to London. Olive also left to attend to her dying mother, and Billy was left in the care of his father.
During this time, Milne and Billy played together with his stuffed toys in the woods, making up stories about them, and inspiring what would become known as Winnie the Pooh.
But once the books became a publishing sensation, life became even more complicated for Billy.
As the public wanted to meet the real Christopher Robin, he was paraded around at book signings and public events.
According to his interview with The Telegraph, at first he "quite liked being famous," adding "it was exciting and made me feel grand and important". But it started to take its toll – with young Billy having to sign copies of the books, and having his name, image and voice used all over the world to sell his father's stories.
His father eventually stopped writing the books, saying at the time he was full of  "amazement and disgust" about the level of fame his son had achieved.
By then, however, the relationship between A. A. Milne and his son was irreparably fractured.
Robin told The Telegraph that he felt his father "had got where he was by climbing on my infant shoulders, that he had filched from me my good name and had left me with nothing but the empty fame of being his son."
Later in his life, Billy wrote three autobiographical books about his childhood with his distant and seemingly self-interested parents.
He never took any money from the profits of Winnie the Pooh and eventually gave his stuffed animals to the books' editor. The toys, which are now over 100 years old, are on display at the New York Public Library.
In 1996, Christopher Robin "Billy" Milne died in his sleep. He was 75 years old.
Thank you - just by clicking on this and other content on Mamamia, you are helping to fund education for some of the world's most disadvantaged girls.
Together with our commercial clients and charity partner Room to Read, Mamamia's goal is to be funding 1,000 girls in school each and every day, by June 2020.
Learn more here about our ongoing mission to make the world a better place for women and girls.