Six months after a road trip that ended bizarrely and left the nation puzzled, all is going well for the Tromp family.
In late August last year Mark and Jacoba and their children Mitchell, Ella and Riana left their family farm at Silvan, east of Melbourne, and drove north.
Days later, Mark was missing, Mitchell and Ella were speaking to reporters, begging the public for help, and mum Jacoba was found on the side of the road.
Listen: In the wake of the bizarre series of events Mamamia Out Loud shared their theories as to what went wrong.

Riana had to be hospitalised after she was found in a catatonic state and Mark eventually turned up in Wangaratta, hundreds of kilometres from where the road trip began in what police described as not a well state.
The 51-year-old's children thanked the public for helping to locate their father, but none of what led to the bizarre series of events was ever fully explained and Australians were left baffled.
In the absence of answers several theories emerged, including accidental poisoning.
While we might never know what caused the ordeal, a new photo suggests the family are moving on with their lives, no doubt helped by Victoria Police's decision last week to withdraw charges against 22-year-old Ella over stealing a car during the incident.
The new photo shows Ella grinning while her dad throws a smiling wink at the camera in the background.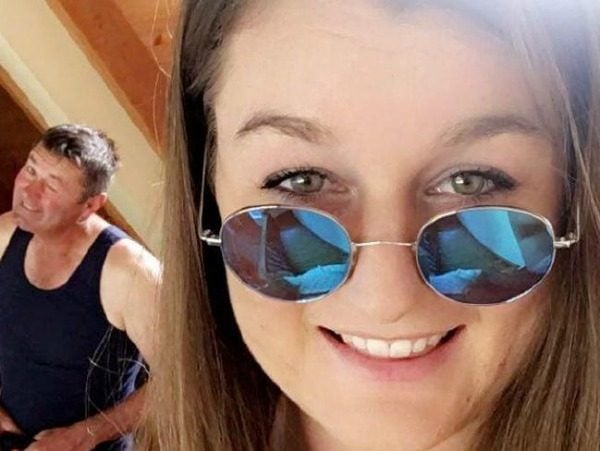 Monbulk Police Station Sergeant Mark Knight told the Daily Mail Ella's charges had been dropped "with the understanding of the car owner".
"The family is relieved," he told the news outlet. "Ella can move on with her life now.
"I spoke with her brother Mitchell last week and he said the whole family is back to work and doing really well."