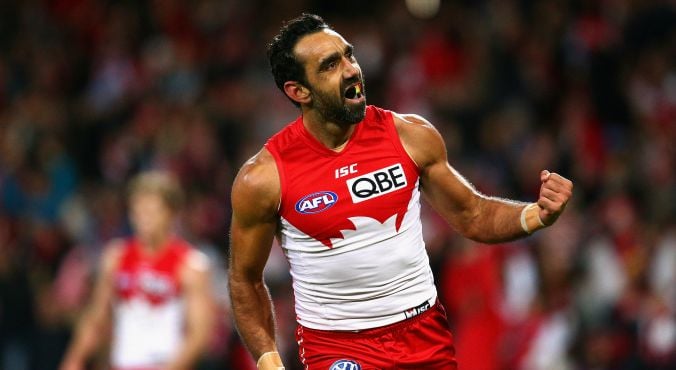 Image via Getty.
Adam Goodes is an Australian legend. He's an incredible AFL player and Sydney Swans gentry. He was Australian Of The Year in 2014, created the GO Foundation in 2009, which gives scholarships to indigenous students, and he's also been at the forefront of raising awareness about domestic violence in Australia.
Aside from these impressive achievements, Adam's a good, respectable person, as in, you won't find him pissing into his mouth on a night out (like Todd Carney) or doing a poo in the corridor of a hotel after a night out (hello, Nate Myles).
RELATED: Is your sporting obsession hereditary or sexually transmitted?
Yet despite these achievements and Goodes's character, he's been booed and harassed at basically every single AFL match for the last couple of months. Yes, almost every time Adam gets the football, an eruption of hatred begins.
It came to a head this weekend when the Sydney Swans played the West Coast Eagles in Perth.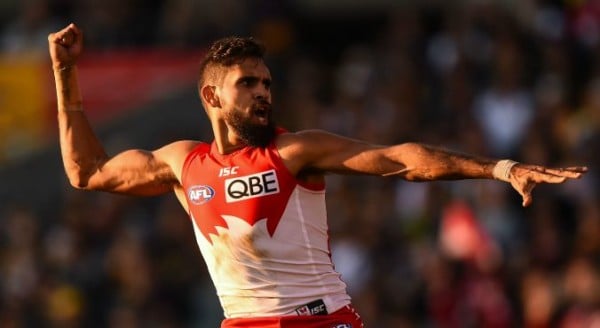 Again, the booing ensued with every move Goodes made. Fellow indigenous teammate Lewis Jetta scored a goal and directed an indigenous war cry dance at the West Coast fans, throwing a make-believe spear at the crowd.
Afterwards, Jetta revealed he'd done it in retaliation to the booing of Goodes.
RELATED: 2015/04/15 The 12 weirdest fitness and diet trends thoughout history
"Look, he [Jetta] wanted to celebrate the goal and he wanted to stick up for a mate," Coach John Longmire explained.
"I spoke to him after the game and he was upset with the booing, and he's had enough of it. Lewis is a young kid who has come to Sydney and Goodesy has been such a powerful figure for him… and he was reacting and trying to show some support for a mate of his... He doesn't think that Adam deserves it."
And I wholeheartedly agree with him. (Post continues after gallery.)
It's a question we all have to ask ourselves: Why is Adam Goodes the object of such sustained disdain?