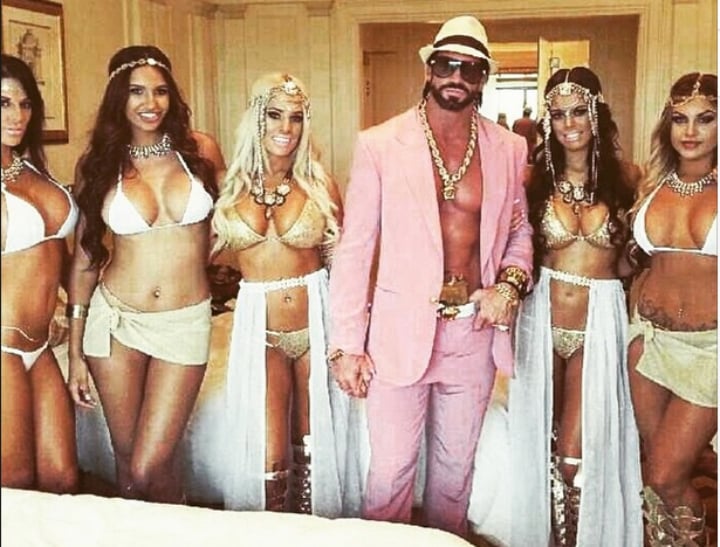 It's not all about "boobs and babes" for Australia's Hugh Hefner, apparently. Except it kind of is.
Travers Beynon has become infamous in the last two weeks for his ridiculous, over-sexualised, demoralising lifestyle.
In case you've been lucky enough to hear nothing about him until now, the AFL player turned playboy tobacco boss lives in a Gold Coast mansion with his wife, two kids and about 15 other bikini-clad women.
He also 'walks' his wife and her best friend (also his mistress) around the mansion on leashes, objectifies women by degrading them to pieces of furniture, and takes endless photos of this misogynist decadence for Instagram.
Oh, and he's a father of four.
It's that last part that I keep coming back to — because as much as his lifestyle outrages and disgusts me because of his antics alone, it's easy to forget that this person has young children in his care.
To Beynon, his four children are more important than the "boobs and babes", he says. He wants the public to know him as a "family man", not just a "candyman".
Of course, his campaign for Father Of The Year is being documented on Instagram.
"There is one thing I cherish more than throwing the biggest and best parties…and that is my KIDS & FAMILY. Our mornings are like everybody else. I am their PROTECTOR & PROVIDER," he insisted in one post.
On another, he boasted of his ridiculous wealth by letting the world know he also hosts kids' parties (you know, just in case any of us were after a party planner.)
Beynon is proud of his lifestyle and he really, really thinks he's a great father. For all I know, he might be.
But the impression he gives off to the public is, well, anything but.
Click through the gallery below for some of Beynon's outrageous posts. Post continues after gallery: