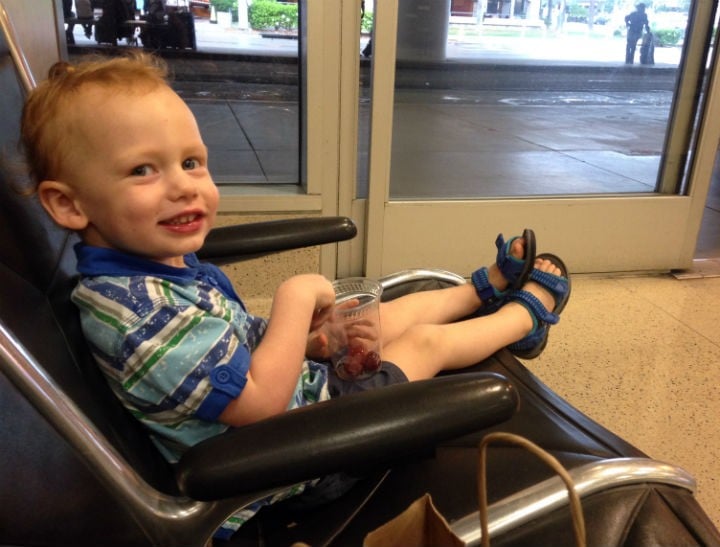 My lifelong best friend had the audacity to leave Australian shores for a life in the USA several years ago. I've missed her more than Liam misses Miley, even more so since we had children within six months of each other.
In October, I was so badly in need of some bestie time that I booked flights to Arizona, where she is currently based. Thirteen hours to LA on a plane with my toddler, followed by another flight to Phoenix would be a snap. Right? Totally worth it for a week of catching up, having massive D&M convos and laughing over the graves of boyfriends past.
My son Rafferty's comfort zone is anywhere on earth as long as he's within three metres of me, so overall the trip was actually not that bad. He's not a sleeper at the best of times, meaning we didn't have an issue with jet-lag. And Arizona is the land of wide open spaces so he was able to operate at his default setting, which is perpetual motion.
Planning ahead and pacing ourselves made for a successful trip. Here are some handy tips for globetrotting with a two year old, that go beyond installing apps on your phone:
1. The most entertaining thing on the plane is you.
Most travel blogs recommend the usual stuff for long flights - colouring books, stickers and a 'special present' to open when you take off. I went to great lengths to pack all this stuff. It kept him occupied for about ten minutes.
Peppa Pig videos filled up another hour. The rest of the time he made the most of the parental entertainment unit that was strapped in beside him with no means of escape.
We had fun together playing games and singing songs, but yes, it was exhausting. I had to wait eight hours until he fell asleep before I could finally settle down to watch Magic Mike XXL .(Joe Manganiello, perhaps my next baby can be yours?)
Here's the most popular toys that you might also want to pack. Post continues after the video...
2. Take snacks.
Hungry kids are like tired kids - they suck big time.
Take more food than you think you'll need on the plane, in the car and to whatever world famous landmarks you visit or all you'll remember is the high pitched whining in your ear the whole time.
Packing plenty of nibbles keeps the kids happy, occupied and saves you from having to spend a load on junky rubbish when you're out and about.
3. Hide the breakables.
At one stage during our visit with my friend, my darling son approached me quietly with two very recently separated parts of an ornament. He placed them in my lap, said "There you go Mummy," and backed away.
Wherever you stay, the first thing you need to do is check for things that can be easily broken or destroyed. Telling your kid not to touch just creates a magnetic attraction. Put them right out of sight and you won't end up apologising or having to hide the evidence (hopefully my friend won't check under her couch for a while).
4. Don't expect them to be impressed by monuments and landmarks.
We took the little ones to the see the awesome spectacle that is the Grand Canyon. They spent the majority of the time running around chasing a squirrel.
Later in the day, after an incredible train ride across the plains of Arizona, my son saw a car that looked like Doc Hudson from Disney's Cars. He was so excited he could barely stand.
We both had a great trip. It's just that his overall highlight was getting a new monster truck toy.
5. Ask the locals.
It's your child's holiday too.
Seek out the indoor playgrounds and parks so that your toddler has a chance to relax and play. When you get there, find out from local parents about the nearby kid friendly places to eat. We were tipped off about restaurants that supplied crayons and even had separate play areas . Rafferty didn't have to suffer the frustration of being forced to sit still and I was able to enjoy a sneaky margarita and a few good belly laughs with my BFF.
Parenthood doesn't mean the end of travel. Sure, you can't visit four museums in a day or drink your body weight in tequila, but you get to look at the world through your child's eyes, which is pretty darn special.
What would you recommend?