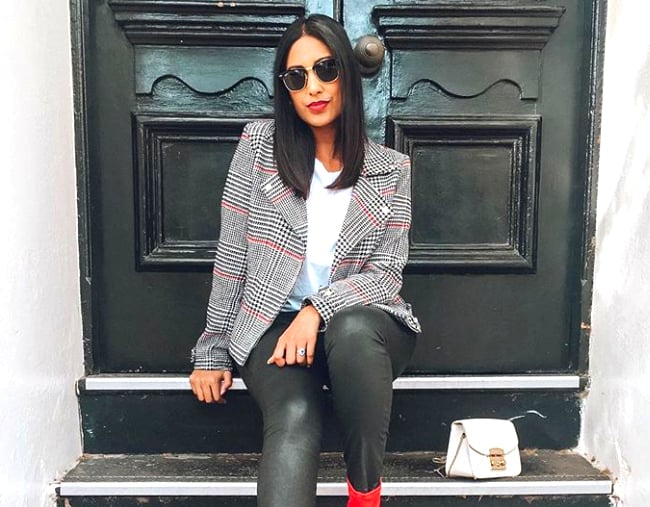 Tina Abeysekara is the stylist and influencer behind Trash to Treasured. By day, she's a Hydrologist, and by night, a bargain hunter known for putting together ridiculously stylish outfits for her 48K followers. Oh, and they're always under $150.
To find out how she manages to pull off luxe looks for (a lot) less, we asked Tina to share exactly how she finds bargains among racks of crapola. Here's what she said…
A cheap price tag does not a bargain make.
So, how do you separate trash from treasure? Read on for how to hunt the sales racks, what to look for and taking home a true bargain.
Do your homework
Though you've probably already done it! Cuts, colours and fabrics that are currently trending will be all over fashion blogs/Instagram/Pinterest. Use these sources to filter out the impulse buys and hone in on items that you're already loving.
If you're still stuck for #inspo check out the store change room racks- a haven for styles you may have walked past on the floor, or that size you were after.
Ask the three C's
Everyone needs a trusty C scale when searching for that diamond in the rough, right? The three factors I look at when assessing a potential bargain are:
Cost Per Wear
Divide the price of an item by the amount of times you think you'll wear it and you'll get your cost per wear. If it's low then hooray! You're on track for a bargain.
Compatibility
A good bargain integrates into your existing wardrobe with ease – no additional purchases necessary. My rule i try to follow is if I can style the item into at least two outfits with my existing wardrobe then that's another big fat tick.
Compromise
And by compromise I mean DON'T!  We are all guilty of those impulse 'not quite right' purchases that we swear we'll get altered/lose weight for/wear one day…only to have them sit, tags on, in a pile of shame. If it doesn't fit then nope, it's not coming home with me.
Trend vs Timeless
Surprise, surprise, trending pieces are best bought while they're still trending, so don't wait for these to hit the end of season sales rack.
Either hunt around for an affordable price point or snap them up during a storewide sale (aka the BEST kind of sale).
Save your money for timeless pieces, people! When you find an item that is a classic style, durable and on sale trifecta, you've hit bargain gold.
Snap up breathable materials such as linen and cotton for warmer months and cozy cashmere for winter.
Simple tops, structured blazers, a go-to dress or a great fitting pair of jeans never go out of style, so they are all pieces I keep top of mind when I scan the sales racks.
As for colours, my picks are neutral hues that are easy to mix and match. Think white, black, tan, navy as well as grey and khaki. Oh, and stripes. Stripes are always a good idea, as is gold or metallic detail to elevate a look. If the aim is to look luxe for less then these pieces work every time. 
Stay in the loop
Flash sales and discounts codes are flying around everywhere so it pays (or in this case, saves) to subscribe to store emails and follow along on social media.
Create a wish list so your favourites are ready to go once a sale hits – lists also gives you a chance to review those impulse items before hitting the checkout!
But just before you hit 'buy', plug the store name and type 'promo code' into old mate Google to double check whether there's another, better discount code available.
If you're shopping in-store keep an eye on layout of the store – large retailers tend to group products by category (i.e all shirts together) rather than collection closer to sale time (Zara and Target do this all the time!)
Don't pigeonhole
Now more than ever high street brands and department stores are constantly experimenting and evolving to bring you better for less, and you'll be pleasantly surprised by what they have to offer.
It's possible to drop by somewhere like Target for a cocktail dress and then Kmart for a clutch to style with it. A pair of my most asked about jeans is from Supre and I once picked up a pair of geo print cigarette pants from Coles for $8!
So keep your eyes peeled – bargains are everywhere once you start looking. 
How important is price for you when it comes to shopping? Do you prefer investing in expensive items or buying fast fashion? Tell us in the comments. 
For more from Tina, visit her website Trash to Treasured or follow her bargain hunts of the Trash to Treasured Instagram.