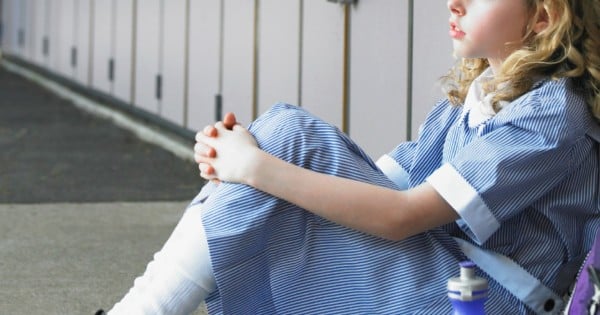 Remember the days of the old school yard?
We used to laugh a lot. Oh, don't you
Remember the days of the old school yard?
Ah, it's lovely to reminisce.
We had simplicity and warm toast for tea, to quote Cat Stevens.
Why, we'd play in the street until dark! Kids weren't molly-coddled like they are these days! All of that rough-and-tumble was character building!
Girls were girls and boys were boys; mum ran the home while dad was at work.
Life was easier in those days, wasn't it…?
Well, the answer is "no".
This week, writing my memoir, I revisited the ghosts of schools past.
My senior years, at Frawley College on the outskirts of Brisbane, held a rosy hue: the passion of the teachers; the camaraderie of schoolmates; the myth of "the best time of our lives".
Anything that didn't fit the Disney version of events was obviously an aberration.
That sick feeling in the stomach when a gang of boys yelled, "Show us your tits!" was just "boys being boys".
The shiver up the spine when one of the Brothers grabbed a student's arse was clearly an over-reaction.
And girls being told to ignore maths because they'd find a nice man to look after them seemed a logical conclusion.
Looking back, it was clear: misogyny, child abuse and bullying were on the curriculum.
A fish rots from its head: the corruption went all the way to the top.
One of the founders – let's call him Monsignor Frawley because, hey, that was his name – covered up systemic child sexual abuse.
As kids, we were ignorant. Sure, there were whispers in the corridor. But we didn't really understand what was going on.