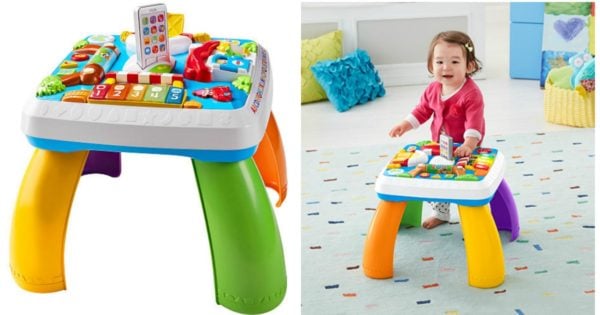 Let's face it, with so many toys available to young children it can be hard to know which ones to choose for your little one. You want the toys to be educational and fun, not just something that takes up valuable real estate in your house. And you also don't want them to grow out of them too quickly, leaving you to wonder why you even bothered buying it.
I was recently given the opportunity to trial the Fisher-Price Laugh and Learn Around the Town Learning Table with my daughter, Isla.
Having tried out lots of baby toys with her two older brothers, I could immediately see this would be one of the toys she would gravitate towards each day. From the minute I took it out of the box, she was on my lap touching, pointing and laughing with excitement at this colourful new delivery.
Jacqui with her young children and (R) Isla. Images: supplied.
The tower itself features four sides, which means a different perspective for baby where ever she pulls herself up on. Isla is 14 months old and is now toddling around the house with ease. We set the table up in our living room and throughout the day she would make her way over to the table to see what else she could discover, each time remaining engaged for a considerable amount of time, something which simply doesn't happen with a lot of toys.
On the table there are flashing lights and open/close doors (which we know babies love). There are noise makers and 'peek-a-boo' type activities, which keep baby interested and Isla made my heart melt in a hundred different ways when she started dancing (in her own way) to the catchy songs which are activated by baby pressing buttons on the unit.
The best part for me as a parent was to see that the Fisher-Price Laugh and Learn Around The Town Learning Table has three separate learning modes, allowing you to adapt the toy to your baby's age and stage.
Mums and Dads, this means that one toy that will see you through for quite a while, which is always a bonus. My older boys who are three and five still enjoyed the table and would play happily with their sister as she giggled at them opening and closing doors and windows and turning on and off the slight switch.
I found the table to be very educational, while still retaining Isla's attention. It features songs and activities focused on shapes, colours, numbers and letters. It also educates your toddler on animal noises, which she really enjoyed.