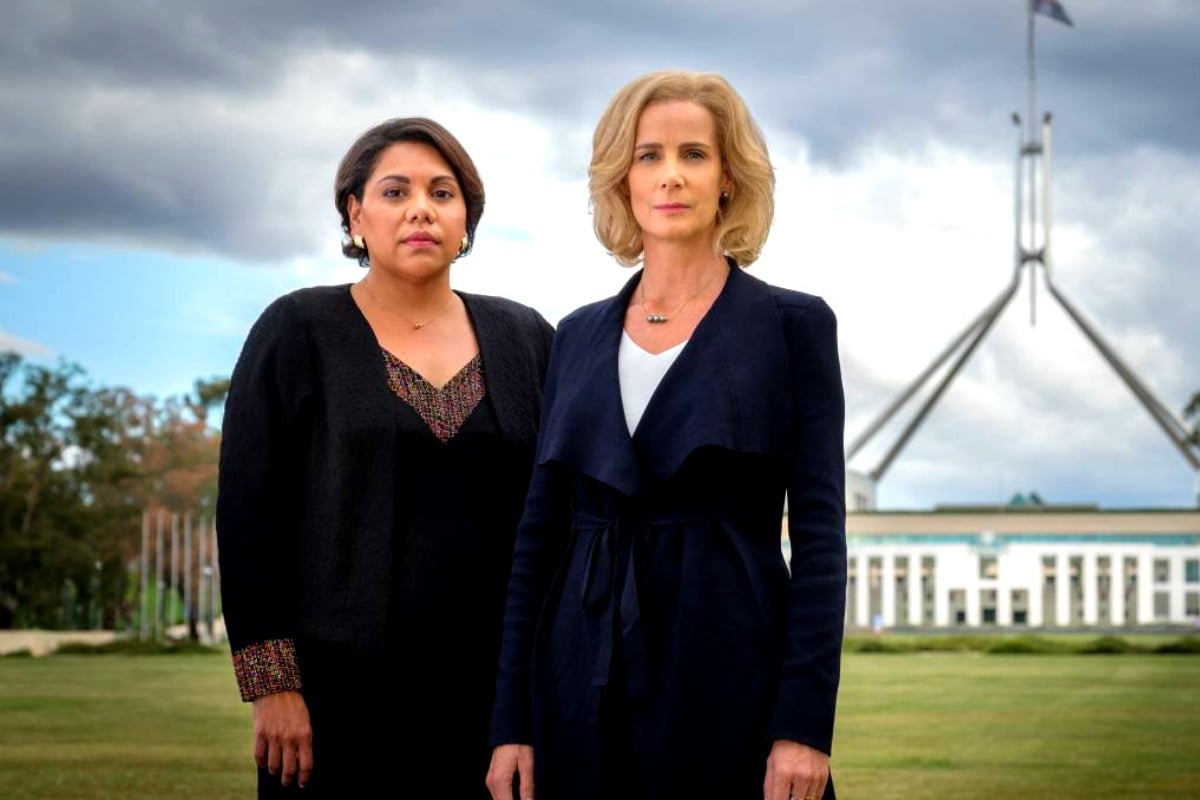 Total Control is a TV series with the power to make you feel deeply uncomfortable, particularly with its opening scene.
The new ABC six-part political drama stars formidable Australian actresses Deborah Mailman and Rachel Griffiths in a story that encompasses ambition, betrayal and treachery which all play out in one of the most treacherous places in our nation, the halls of Parliament House in Canberra.
"It's such a punch in the guts in terms of how to start a show with that kind of intensity," Deborah Mailman said in reference to the scene on Mamamia's entertainment podcast The Spill. "That was a difficult scene because there are a lot of stunts involved and there is a gunman, a car crash, some dead bodies and people just running all over the place.
Listen to Deborah Mailman tell hosts Laura Brodnik and Kee Recee all about her new show TV show Total Control on Mamamia's daily entertainment podcast The Spill. Post continues after. 
"I play the role of Alex Irving and she's a country girl from outback Queensland who lives in Winton. The event that happens in the opening scene of the show then pushes her into the national headlines and she gets the attention of Prime Minister Rachel Anderson, played by the incredible Rachel Griffiths.
"She comes to see Alex in her hometown and asks her to be in the Senate and Alex sees it as an opportunity to make a real change so she comes into parliament as Senator for Queensland. Right from the get-go, as soon as she walks into the corridors of parliament, there is a lot of judgment around her. She is not taken seriously, but she is about to prove everyone wrong."
The star of iconic Australian productions such as The Secret Life of Us, The Sapphires and Offspring said Blackfella Films, the production company behind Total Control, in conjunction with Rachel Griffiths, were committed to kicking off a national conversation with this show.
"Blackfella Films want their shows to be conversation starters and Rachel Griffiths, who is an executive producer on this, she just wants to see fantastic, complex female characters on screen and that's what Alex and the Prime Minister are. To have flawed people on our screens is important.
"Alex is a single mum, she's also horny as hell and there's a great scene in the show about that is just one of my favorites because it just shows that she is a little bit loose.
"She's in Canberra and she's had a terrible first day in parliament, so she goes to a bar and looks at this fellow across the room and, you know, you'll see in the first episode what happens there.
"I just love her because she is a little bit unhinged and a little bit unpredictable. She's got a big heart and a big temper."