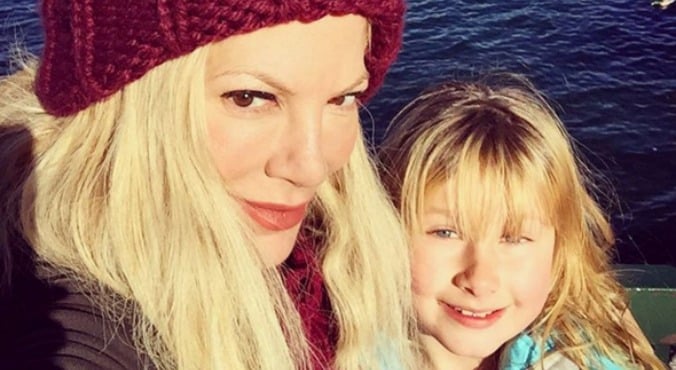 Image: Instagram/@torispelling.
It was a standard Instagram post. Tori Spelling posted a picture with her two daughters revealing that she was excited about their modelling debut.
But the reaction to the picture soon moved from congratulatory to critical because seven-year-old Stella's usual mousy blonde hair was now platinum blonde.
"My gosh, I hope that kids hair isn't bleached," wrote one commenter.
Quickly, her followers brought her parenting skills into question for allowing her young daughter to dye her hair.
"Why would you bleach your daughters hair?!? I'm a hairdresser and I would never do that to a kid. They're scalps are so sensitive to put those kind of chemicals on their scalp," wrote marie_62577.
After remaining silent for weeks, Spelling has now defended herself against the backlash.
"Everything we do, I feel like, there's some people that are like, 'Great!' and some people, 'Not so great'. That's just part of being in the public eye," she told People.
(Watch: Parents reveal their secret favourite child. Post continues after video.)