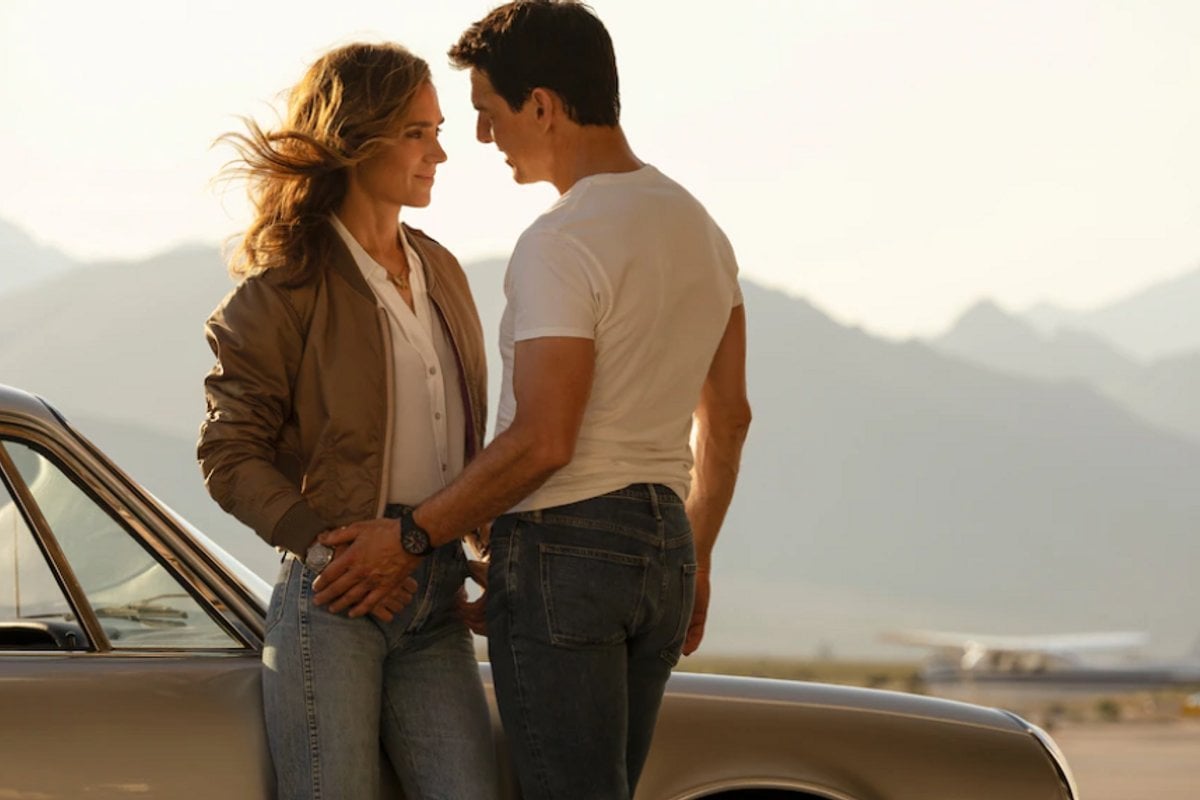 About 20 minutes into Top Gun: Maverick, the long-awaited sequel to 1986's Top Gun, I shed a few tears. 
Now, I'm a crier at the best of times. Just thinking about Tom Hanks in Philadelphia makes me cry. And I can't even bring myself to re-watch Beaches. 
SHE WAS THE WIND BENEATH HER WINGS! 
However, I definitely didn't expect to have an emotional response to the sequel of an action movie I hadn't watched in years. 
Watch the trailer for Top Gun: Maverick. Post continues below.
But then that scene happened. 
Let me paint a picture for you. 
It's 2022, and Tom Cruise's character Pete 'Maverick' Mitchell has been called back to the Top Gun academy to train the country's best fighter pilot graduates for a special mission. 
He's at a local dive bar where he's just been reunited with his long-term on again/off again love interest Penny Benjamin (played by Jennifer Connelly), a character who was only briefly mentioned in the first movie but somehow manages to feel incredibly nostalgic. 
Then a cocky young graduate named Bradley 'Rooster' Bradshaw (Miles Teller) enters the bar. Rooster is the son of Goose, Maverick's former co-pilot who - three decade old spoiler alert - died in the first movie. 
It soon becomes clear that Maverick and Rooster have had a falling out. 
After Maverick is kicked out of the bar for not being able to pay his bill, he looks through the window to see Rooster playing the piano and singing 'Great Balls of Fire' with the rest of the graduates.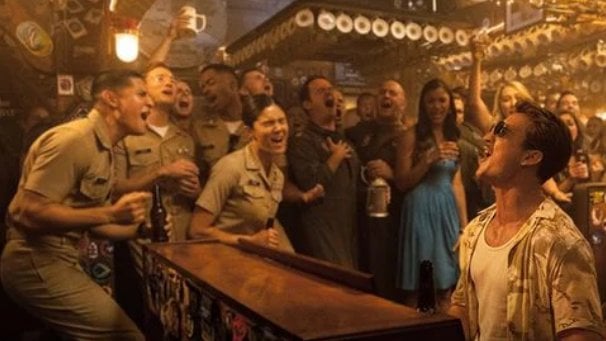 Image: Paramount Pictures. 
Just like his dad used to. 
Cue the tears. 
From this moment on, I was incredibly invested in Maverick's journey and how he was going to repair the rift between himself and this bird-based offspring, who I hadn't thought about in over 30 years.