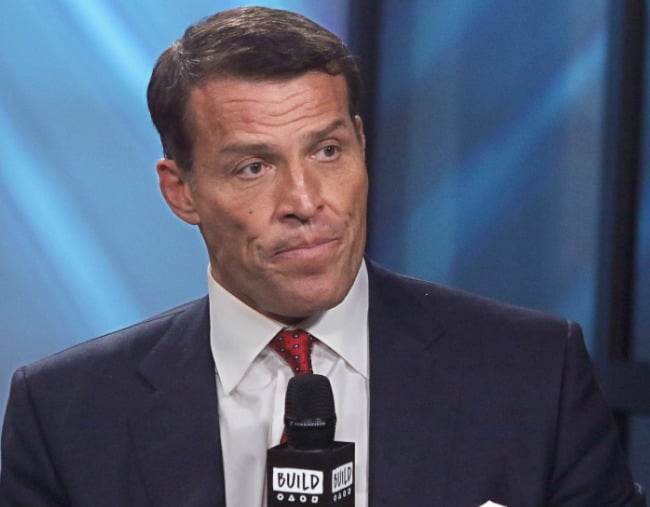 Tony Robbins apparently doesn't believe in the #MeToo movement.
Speaking at one of his seminars in San Jose, California, Robbins told the crowd the movement was just about a bunch of angry women using it "like a drug" to get "significance".
"If you use the #MeToo movement to try and get significance and certainty by attacking and destroying someone else, you haven't grown an ounce," he said.
The 58-year-old then said women are using the movement to make themselves "feel good".
It doesn't end there.
A woman named Nanine McCool, who is a sexual assault survivor, stood up and confronted the almost seven-foot tall Robbins.
Nanine McCool stood up to Tony Robbins. Post continues.
McCool told the self-help guru she believed he was "misunderstanding the #MeToo movement".
Robbins then walked over to McCool and began to push her backwards while saying, "You're telling me the more I push, the more I am going to be safe?".
"You're a leader and an influential man," McCool replied, with the microphone still in her hand.
"And you are doing a disservice, in my opinion, to the #MeToo movement."
The author and motivational speaker then launched into a story about a "very famous, very powerful" client of his, who feels like he can't hire attractive women anymore as a result of the #MeToo movement.
Before the video was made public, Robbins people allegedly reached out to Tarana Burke, the creator of the #MeToo movement, in an attempt to do some damage control. But Burke wasn't having any of it.
I was made aware of this video BEFORE I ever saw it because Tony Robbins people reached out to do damage control within 24 hours. They wanted to "give me context" apparently. I don't need any. I have eyes. The full video is 11 mins. And it's gross. Bravo to this woman. https://t.co/gjbm9GF1Mz

— Tarana (@TaranaBurke) April 7, 2018
Oh the video is MUCH worse. His misogyny runs deep. To even repeat that story of his 'friend' who wouldn't hire the 'pretty woman' as if it's the MOVEMENT's fault and not the sexist man's fault is all you need to hear. It's deplorable. But SO many folks misunderstand this work.

— Tarana (@TaranaBurke) April 7, 2018
And he is clear that he won't apologize so it is what it is. If you choose to keep supporting him it's with full knowledge of his views on women and survivors.

— Tarana (@TaranaBurke) April 7, 2018
This moment is so damaging especially with how influential @TonyRobbins is. We have a hard enough time trying to shift the narrative about what this movement really is and he stands in front of thousands of his followers and completely misrepresents the @MeTooMVMT

— Tarana (@TaranaBurke) April 7, 2018
You try to make it seem like it's 'just your opinion of SOME people' saying 'me too.' but my question is WHO? Who have you seen using their story of sexual violence for 'significance'? Name five prominent examples @TonyRobbins – please. I'll wait.

— Tarana (@TaranaBurke) April 7, 2018
Since the video has been released many people have spoken out against Robbins on Twitter.
'I'm not going to give that qualified woman a job as she's too attractive.' Translation: I can't trust myself to keep my dick in my pants around this woman so let me give the job to an unqualified man.
The fact #tonyrobbins defends this point of view is disgusting.

— Charisse Kenion (@CharisseKenion) April 7, 2018
#tonyrobbins
mansplained the #metoo movement to a survivor of sexual abuse. Literally tried to intimidate her. From here on out if you support him , you know exactly how he feels and what he thinks of women and sexual victims.

— Sαιηт Hσωιє✨ (@Saint_Howie) April 7, 2018
She stood her ground ????. To say you would not hire a woman because she is qualified but too beautiful is a cop out. Instead of calling out the man's actions, Tony chooses to attack #MeToo . He and his friend are both wrong and a problem. Women need to call out #TonyRobbins

— Sandra West (@sandra_speaks) April 7, 2018
Screw #tonyrobbins his time is over, how about the brave woman who stood up to him? Who is she? Good for her, having the courage to stand up & say something! She did it because he was WRONG, not because she wanted to be "significant". #Standup

— Karen Marshall (@MandyArmageddon) April 7, 2018
Tony Robbins grandstanding in front of thousands – accusing survivors of sexual abuse of daring to demand "significance." Oh, the Irony. Bye, Felicia. The woman who stood up to Robbins in that room is a hero. #TonyRobbins #buhbye https://t.co/EeGEZ9S8Vq

— Glennon Doyle (@GlennonDoyle) April 7, 2018