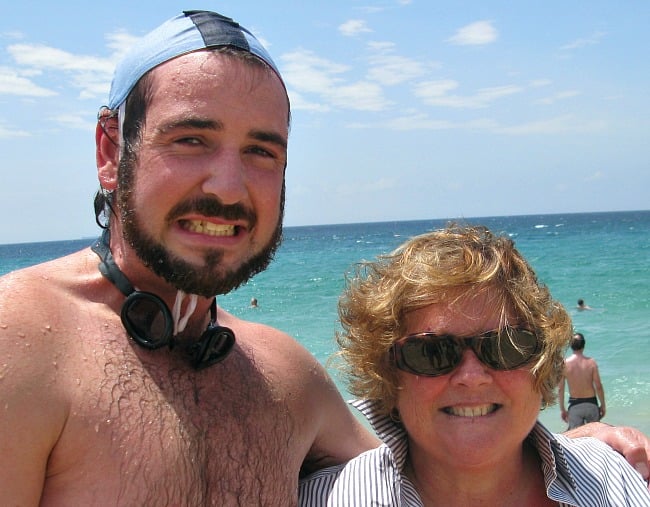 They call it ambiguous loss. Grief that occurs without the closure of a death, leaving a person in a perpetual state of not knowing.
It's a heartache NSW mother Eileen Fahey lives with everyday.
Her son, Anthony (Tony to most), has been missing for more than five years; no calls home, no emails, no money spent from his account, or flights taken. Lost. Like more than 2600 other Australians currently on the long-term missing persons register.
"When you bear children, part of your life blood or life spirit, whatever you want to call it, part of you is in your children. And when one of them is missing and you can't reconcile why, it's very, very hard," the mother of seven told Mamamia.
"I have nothing to say that he's not here anymore. So until I can come to that, then I need to cling onto hope that he is still alive. I'll just have to wait."
Tony was 29 when he disappeared on Wednesday July 3, 2013.
He'd been working in construction, but was unemployed at the time, and had recently moved back into his parents' home in Murrumbateman, near the ACT border. The previous month he'd been living in Perth with his girlfriend, but according to Eileen, the move to WA proved "too much" for him, "a strain".
"He told [his girlfriend] that he needed to go home and sort himself out before he could actually stay and be with her," she said. "So he was a bit unsettled."
During a 2017 coronial inquest into his disappearance, Tony's aunt, Margaret Harries, gave evidence that when he visited her Canberra home the day he vanished, he "seemed depressed, preoccupied, and wanted answers to things", namely religion and politics. That afternoon he told her, "I'm going to go to the Jolimont Centre [Canberra's main bus terminal] and catch a bus to either Sydney or Melbourne, whichever bus comes first."
Before he left, Margaret gave him a plastic bag filled with a cup of two-minute noodles, a pair of socks, boxers and long pants, and urged him to stay safe and to call.
Tony bought a ticket for a 7:00pm Sydney-bound bus, and the passenger manifest shows his name was marked off. That is the last known trace of him.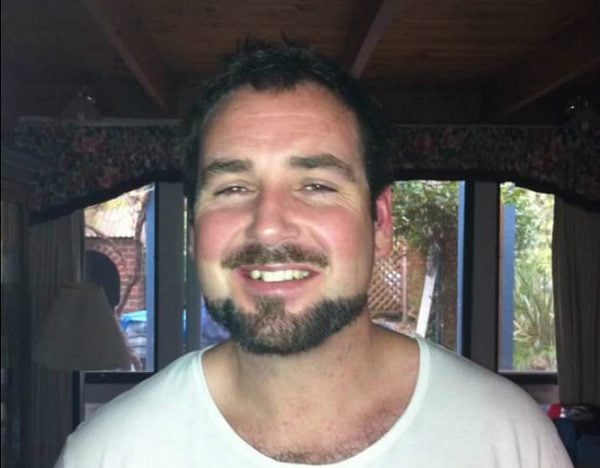 In those early weeks and months, Eileen fought off the negative thoughts that ran through her head each night as she tried to sleep; she told herself that Tony was just clearing his head, that he would return at Christmas - his favourite time of year.
He'd be back to help with the ham and turkey, to tuck into pudding, to play poker and darts with his four brothers until the early hours of the morning.
But he didn't show.
"From the island bench in our kitchen I can look out the window and I can see the driveway. Every Christmas standing at that bench, I've looked out, expecting that I will see him walk down that driveway," she said. "And I'm always shocked when he doesn't."
That expectation is part of the reason she and her husband are reluctant to move house. Though they plan to retire in the coming years and hope to downsize from their five-acre property, they're worried.
"How can I leave? The memories of the last 15 years are in this house. I guess I'm frightened about I may lose those," she said. "And what happens if Anthony comes home and there are strangers there? Those things really play heavily on my mind."
There have been several sightings reported in past five years - all false. Each time Eileen and her husband have steeled themselves, as they've been handed CCTV footage and photographs of men resembling their son.
"You're trying not to build up too much hope. And as a matter of fact, we're probably more critical, rather than positive we when we see or hear something, because we are protecting ourselves," she said.
"You could drive yourself mad."
Perhaps the most difficult was when police took DNA from them after a torso matching Tony's build was found in Queensland in 2013. For 12 weeks they waited, until the negative result came through.
"I still believe there's hope that he could come home."
Almost as bad as the 'not knowing', Eileen said, is the feeling of helplessness. She does her best to ease it by speaking publicly about Tony, by following up with police, by answering every phone call, by searching.
Almost reflexively, she scans the faces of construction workers, the homeless, even the people walking behind reporters on the nightly news. She has trawled social media and the internet for clues, and even took a year off work to dedicate herself to looking for her boy.
"A lot of people [with a missing loved one] feel guilty that they may not have done enough," she said. "I don't want to find in 10 or 15 years that I turn around and think that. I'd much rather be very active now."
Yet as time passes and the leads dwindle, the threads of what happened to Tony become more difficult to pick up.
"I have noticed that in the very early days of talking and sharing about Anthony I would say, 'when he comes home', then about six months ago I started saying 'if'," Eileen said. "I don't know why. That's obviously some sort of emotional thing inside... I don't know.
"I still believe there's hope that he could come home. But you know, as the years go on that hope is much harder to keep going. I'm still out there, and I'm determined with my head and I am absolutely determined in my heart that I will keep going and I will keep searching and I will keep looking," she said.
"I'm not that naive that I don't think I may at some point need to accept that is dead, or maybe he just doesn't want to come home. So there are other reasons, and I just need to be open to any of them. But whatever happens, the most important thing for me is just to know."
Every now and then Eileen takes a moment, alone, to feel the weight of it all.
"We have a little dam on our property, and I sit there and have a little luxurious cry, for want of a better term. But then I sort of say to myself, 'Well OK. Now I need to pick myself up,'" she said. "I've got six other children, I've got a loving husband and three grandchildren; I need to be the best person I can be for them. So that helps me. That helps me to keep going."
To her son, should he see or hear her message, or learn of her tireless search, "I would tell him that I love him very much, I miss him terribly. And to contact someone in the family. That's all we need. We just need to know he's OK."
If you think you may have seen Tony or have any information about his disappearance, please call Crime Stoppers on 1800 333 000. Any small piece of information could help.
For information about other missing persons, please visit the Australian Federal Police website.