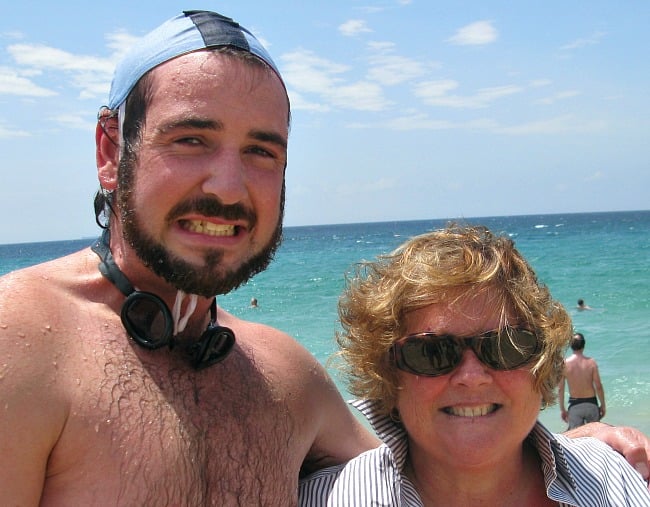 They call it ambiguous loss. Grief that occurs without the closure of a death, leaving a person in a perpetual state of not knowing.
It's a heartache NSW mother Eileen Fahey lives with everyday.
Her son, Anthony (Tony to most), has been missing for more than five years; no calls home, no emails, no money spent from his account, or flights taken. Lost. Like more than 2600 other Australians currently on the long-term missing persons register.
"When you bear children, part of your life blood or life spirit, whatever you want to call it, part of you is in your children. And when one of them is missing and you can't reconcile why, it's very, very hard," the mother of seven told Mamamia.
"I have nothing to say that he's not here anymore. So until I can come to that, then I need to cling onto hope that he is still alive. I'll just have to wait."
Tony was 29 when he disappeared on Wednesday July 3, 2013.
He'd been working in construction, but was unemployed at the time, and had recently moved back into his parents' home in Murrumbateman, near the ACT border. The previous month he'd been living in Perth with his girlfriend, but according to Eileen, the move to WA proved "too much" for him, "a strain".
"He told [his girlfriend] that he needed to go home and sort himself out before he could actually stay and be with her," she said. "So he was a bit unsettled."
During a 2017 coronial inquest into his disappearance, Tony's aunt, Margaret Harries, gave evidence that when he visited her Canberra home the day he vanished, he "seemed depressed, preoccupied, and wanted answers to things", namely religion and politics. That afternoon he told her, "I'm going to go to the Jolimont Centre [Canberra's main bus terminal] and catch a bus to either Sydney or Melbourne, whichever bus comes first."
Before he left, Margaret gave him a plastic bag filled with a cup of two-minute noodles, a pair of socks, boxers and long pants, and urged him to stay safe and to call.
Tony bought a ticket for a 7:00pm Sydney-bound bus, and the passenger manifest shows his name was marked off. That is the last known trace of him.