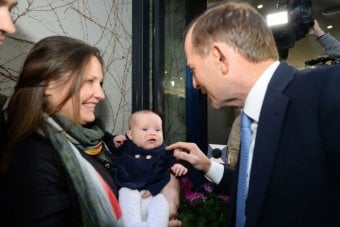 The Prime Minister's office is refusing to say whether Tony Abbott's signature paid parental leave (PPL) policy could soon be dumped, insisting changes to the controversial scheme are still being finalised.
The contentious $20 billion scheme that Mr Abbott has taken to two elections is unpopular among many MPs in the Coalition party room.
Government sources said the PPL policy was continuing to be fine-tuned, with the government looking to do more to improve child care access and affordability in a new families package.
Treasurer Joe Hockey told reporters on Friday the cost of the policy was being taken into account.
"We've got to be able to fund whatever families package we have and I'm working with the new Minister in that regard and obviously with the Prime Minister," Mr Hockey said.
Read more: Tony Abbott backs down on his Paid Parental Leave Scheme.
As internal pressure grows on the Prime Minister's leadership, Mr Abbott is putting the final touches on his much-anticipated address next week to the National Press Club in Canberra.
Mr Abbott will use Monday's speech to outline the Government's priorities for the year ahead, which will focus on jobs and families.