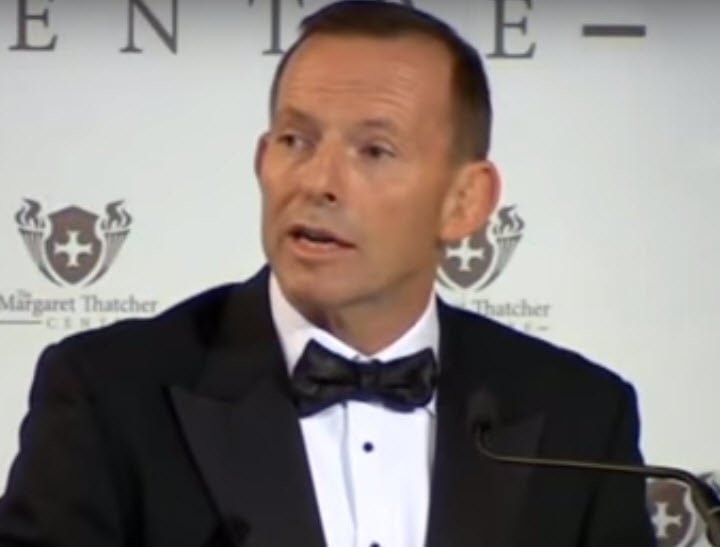 "It will require some force, it will require massive logistics and expense."
By Melissa Clarke in London
In his first major speech since losing office, former prime minister Tony Abbott has called on European leaders to close their borders to asylum seekers or risk imperilling their nations.
Mr Abbott delivered the second annual Margaret Thatcher Lecture at a banquet in London to an audience of Tory ministers and Conservative Party members.
He used the occasion to promote the Coalition's hardline asylum seeker policies as a solution to Europe's migrant crisis.
He urged regional leaders to act by "turning around boats [and] denying entry at the border for people with no right to come".
"It will require some force, it will require massive logistics and expense; it will gnaw at our consciences," Mr Abbott said.
"Yet it is the only way to prevent a tide of humanity surging through Europe and quite possibly changing it forever."
He outlined his concern that "misguided altruism" was "…leading much of Europe into catastrophic error".
"No country or continent can open its borders to all comers without fundamentally weakening itself," he said.
Watch the address here:
He cautioned, "too much mercy for some necessarily undermines justice for all".
Mr Abbott called for more to be done to counter the ideology behind extremist groups, such as Islamic State.
"It's a pity that the recent UN Leaders' week summit was solely about countering violent extremism … and not abound not about dealing much more effectively with the caliphate that's now the most potent inspiration for it," he said.