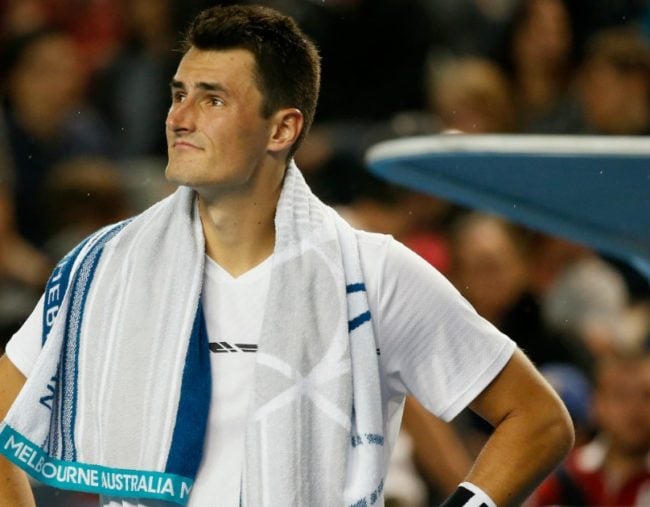 Even John Tomic is reportedly ashamed of his son Bernard's Wimbledon performance.
Tomic has lost his racquet sponsor and been fined $US15,000 ($A19,700) for saying he was "a little bit bored" during his 6-4 6-3 6-4 loss to Mischa Zverev and that he no longer respected tennis enough or cared how he fared at the grand slams.
The 24-year-old Tomic — who feigned injury to take a strategic medical time-out during his first-round exit — has been roundly condemned for his conduct and now even his father and former long-time coach has called out his behaviour.
Bernard #Tomic: "This is my eighth #Wimbledon or ninth, I think. I'm still 24, and it's tough to find motivation, you know." pic.twitter.com/Gf6URWUp9m

— We Are Tennis (@WeAreTennis) July 5, 2017
"He's my son, I love him, but I'm ashamed at how he's approaching his business — it's not good what he's doing," John Tomic told Newscorp.
"I do not support such behaviour, especially at (a) unique grand slam like Wimbledon.
"You have to have respect and follow the rules. You have to work hard. You have to put in 100 per cent and challenge yourself."
John Tomic said his son, with career prize money earnings of almost $7 million, had become "a little bit" too comfortable with his "easy life".
But the one-time Wimbledon quarter-finalist Tomic and now world No.59 said he deserves everything he earns.
"I worked 10 hours a day with my father, having no money in our life from the age of eight to 15," Tomic said.
"We were driving a $500 car to now having millions and earning millions at 24, having houses all over the world.
"You probably don't like me but, at only 24, you guys can only dream about having what I have at 24."
"End of the day, don't like me or whatever. Just go back dreaming about your dream car or house while I go buy them."
While not condoning Bernard's latest antics, John Tomic is disappointed with some of the criticism aimed at his son.
"There are lot of haters and sharks, legends of tennis, who want to destroy Bernard," he said.