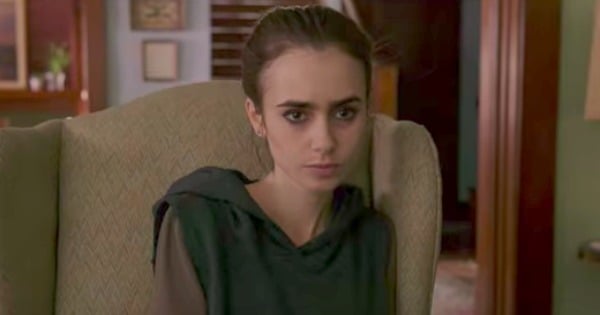 Content warning: This post deals with eating disorders, and may be triggering for some readers.
When streaming service Netflix announced the impending release of To The Bone earlier this week, it was met with two things: excitement and panic.
While the film, which will dramatise the struggle and recovery of an anorexic 20-year-old, is set to premiere on the streaming service on July 14, its two-minute trailer has already been met with backlash from some experts.
Starring British-born actress Lily Collins as the deeply unwell protagonist Ellen, and Keanu Reeves as her mentor and doctor, Dr William Beckham, the trailer for the film alone depicts calorie counting, imagery of protruding bones and food restriction.
Watch the trailer for To The Bone below. (Warning: triggering content)
Australian youth mental health body, Headspace, has issued a warning about To The Bone. CEO Jason Trethowan is concerned the movie will act like a "how to" guide for adolescents who may be at risk.
"We don't want any representation or discussion in the media, on TV, or anywhere else, that has the potential to place young people at risk," he says of the show whose trailer is already appearing on "thinspiration" sites.
For clinical psychologist Louise Adams, an eating disorder therapist from Treat Yourself Well in Sydney, the movie goes beyond being purely educational, to being dangerously instructive.
Speaking to Mamamia, Adams said she wouldn't let her own daughters watch To The Bone as research shows "it is triggering to watch other people displaying eating disorder behaviours – even if it's a story about recovery."
With over one million Australians suffering from disordered eating – a number that has doubled since 2005 – Adams said we are in "the midst of an epidemic"; an epidemic that cannot be aided by depictions of a beautiful young woman reciting how many calories are in a bread roll.
"Even if the entire production is blasted with trigger warnings, if it goes through actual behaviours to avoid eating, that's very dangerous messaging," Adams said.
With this comes a gentle reminder from Adams: A skinny body is not what all eating disorders look like.