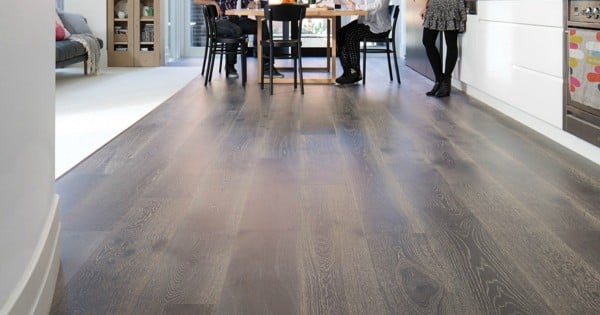 Last year, after months and months of searching, my fiancé and I finally bought our first-ever apartment.
We might be looking at it through rose-tinted glasses, given it is our first home, and given the blood, sweat and many, many tears that went into purchasing it, but to us, it's (almost) perfect.
Except for one area: the floors.
You see, the whole flat is covered in grey, shabby carpet. It's making the whole apartment seem… tired. And I just can't stand it any more.
So when the 2016 Choices Flooring Inspiring Choices magazine (which is free, and comes out yearly) landed on my desk at work recently, I practically arm-wrestled my colleagues for it. Because 2016 is going to be the year we say goodbye to that horrible carpet, and hello to floors that actually improve the look and feel of the rest of the place.
Inspiring Choices 2016 has over 100 pages of the latest flooring trends, as well as decorating advice from top interior writers and stylists.
Here are some of the magazine's top tips for giving your home a room-by-room floor makeover.
1. Kitchen.
Flooring is often overlooked when people start thinking about renovating, but in my opinion it's one of the most important parts of interior design.
It doesn't matter which option you choose – floorboards, tiles, luxury vinyl, carpet – you just have to make sure you pick the right colour, texture and pattern for your home.
You should also consider the main purpose of the room you're renovating. For example, kitchens and bathrooms are very moisture-prone, which is why most places have tiles or slate in those areas, instead of carpet or floorboards.
According to Hana Jo, homes+ features and digital editor, kitchen flooring "should ideally be unaffected by moisture, non-slip, easy to clean and hardwearing, as the kitchen is a high-traffic area." She also suggests matching your kitchen and bathroom flooring in small apartments especially, "to create a more cohesive look".