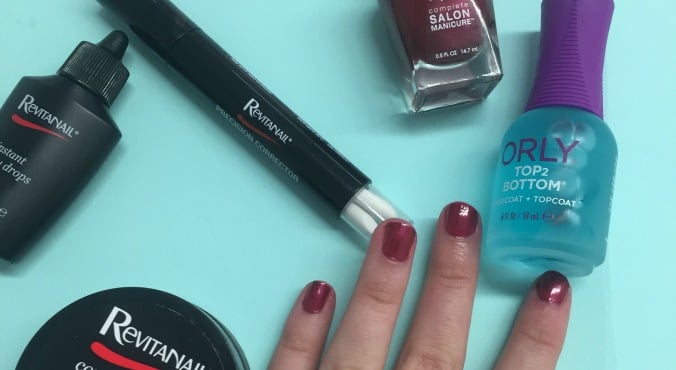 Image: supplied.
I'm uncoordinated at the best of times, but the one activity that I really just can't do is paint my nails.
And I don't even mean intricate fingertip works of art – nail art is just a distant dream for people like me – I mean I struggle to make my non-dominant hand look half decent, never mind trying to paint with my left one.
It's exhausting (and stressful!) just thinking about it.
Luckily, this lack of skill has lead to the discovery of some products that can actually make the process quick, easy and life-changing (for me, anyway).
The Products
The multitasker: Orly Two-in-One Basecoat + Topcoat, $19.95
Perfect for people who don't have the time (or the energy) to battle with a base coat, regular nail polish AND a top coat, the Orly two-in-one is a serious time-saver. It's super quick to dry, nourishes your nails and works nicely as a shiny top coat.
RELATED: How to completely disguise chipped nail polish
The perfect fit: Sally Hansen Complete Salon Manicure Nail Polish, from $7.47
Primarily your nail polish choice should come down to colour, but don't underestimate the importance of texture and brush size too. I find both factors of this polish to be the perfect fit.
The formula makes an easy to apply consistency that delivers bold colour in just one coat (we're all about timesaving here remember) and the brush is the ideal width and size to cover your nail in one or two easy strokes. Also - brilliant names.
The mistake-fixer: Revitanail Precision Corrector, $12.95
Whether it's because you're in a rush, the brush is bigger than your nail, or you've put too much polish on at once, it's so easy to get polish everywhere except where you want it. Enter this magic wand.
Like a felt tip that erases, its narrow point means it picks up even the tiniest of smudges and can get right into the cuticle and under the nail. It does get dirty quite quickly if you're using dark colours, but it comes with three spare tips, so it's definitely worth it. (Post continues after video.)
The miracle worker: Revitanail Instant Dry Drops, $14.99
This product is truly amazing. Straight after applying the polish, simply tip your nails down, add a drop at the cuticle and let it run down the rest of your nail. It dries in seconds. Say goodbye to that awkward dance you do to try and speed up the drying process - this is a game-changer. (Post continues after video.)
The alternative: Kit Cosmetics Nail Wraps, $9.95