A woman who was body shamed by a Tinder match has hit back, telling him that she was out of his league and we couldn't agree more.
The woman's friend shared screenshots of the exchange on Facebook, writing: "My best friend is one of the most beautiful people I've ever met, inside AND out, and she did not deserve any of those disgusting words."
"I don't think anyone, for that matter, deserves to be treated this way. Connor is a wonderful example of how mean, cruel and ignorant people can be."
You don't need to love your body. Instead, here's the argument for being "body neutral" on Mamamia Out Loud. 
The post came after the woman received a slew of vile messages on the popular dating app from a 23-year-old man named Connor.
The man asked her what she was up to before telling her that she was 'one fat motherf**ker'.
The woman responded (sarcastically) that she was so happy that the app 'has provided a free weight loss coach' and that he had motivated her 'change her life around.'
Connor then told her that she was 'just overweight' and 'way out of his league'.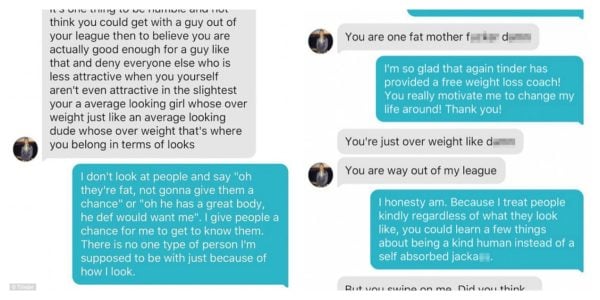 Our new feminist hero replied to tell the 23-year-old that she honestly was out of his league.
"Because I treat people kindly regardless of what they look like, you could learn a few things about being a kind human instead of a self-absorbed jackass."
But even that wasn't enough for Connor to pack up his fragile little ego and leave the conversation with the little bit of dignity he had left.