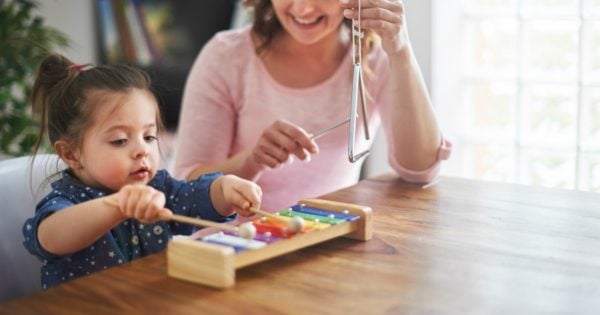 As babies grow into toddlers, the volume of toys in your home begins to spill out of boxes and shelves until before you know it, it's an avalanche of toys. But more does not necessarily equal merrier. In fact in my experience, the more toys that were available for my daughter to play with, the less inclined she would be to play with them at all.
So as she got older, I gradually reduced the piles and piles down to a selection of the best toys that never failed to engage her. Funnily enough, they were often the simple toys that generations of children have enjoyed.
Now, when I buy toys for my nieces and nephews and friends' children, I stick to this list of toys that never go out of style.
1. Musical instruments.
Quality musical instruments are often beautifully made and last for years, even with all the bashing, clanging and enthusiasm they attract. I still have a gorgeous wooden drum that was given to my daughter when she was born, as well as a xylophone, recorder and even a mini accordion. They now serve as an insta-band for when there are lots of little visitors in the house.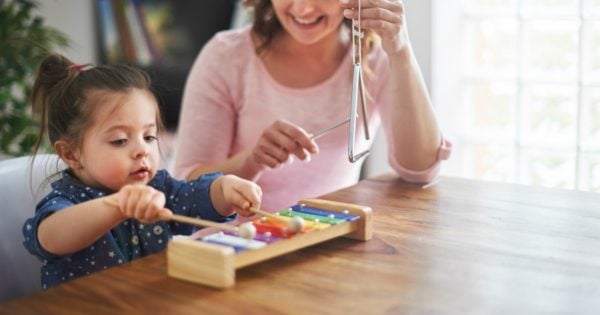 Stimulated and entertained. Image: iStock.
2. Bath toys.
Bath toys are also a great toy staple that kids never tire of, perhaps because baths toys have such a captive audience. My daughter loved her bath time and as she got older, would happily spend heaps of time in her own watery world fuelled by imagination.  Something as simple as a rubber ducky and a plastic boat would create endless adventures out at sea.
3. A LEGO DUPLO set.
Duplo is the preschool range from LEGO, designed specifically for little hands and minds from about 1½ to 5 years of age. The chunky, brightly coloured bricks are perfect for developing early fine motor skills, and the nature of the bricks means children have the freedom to explore and strengthen their creative and imaginative skills too.