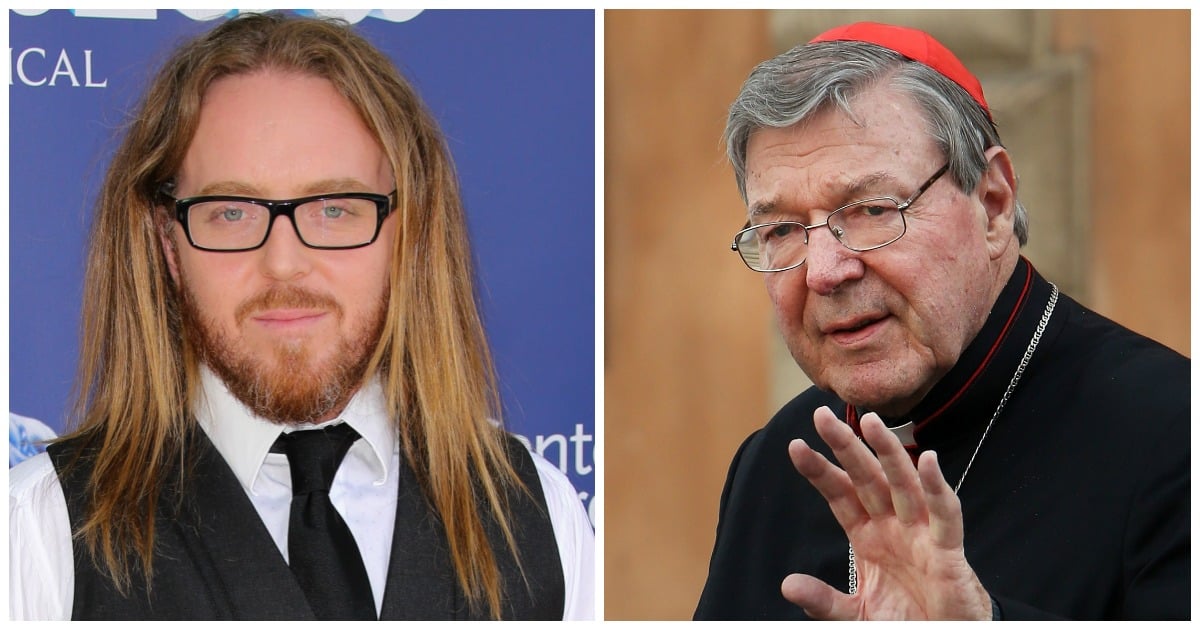 "Come and face the music, Georgie. You owe it to the victims, Georgie."
Comedian Tim Minchin has penned a charity single, calling for Cardinal George Pell to return home, face the music and the Royal Commission into Institutional Responses to Child Sexual Abuse.
"Come home Cardinal Pell," he sings. "Come down from your citadel. It's just the right thing to do. They have a right to know what you knew."
Minchin is rightly peeved about Pell's continued absence due to "ill health" and his ongoing denial that he knew about the sexual abuse of minors by clergy.
"I personally believe that those who cover up abuse should go to prison. But your ethical hypocrisy, your intellectual vacuity and your arrogance don't bother me as much as the fact that you have turned out to be such a God damn coward," Minchin sings, before turning the Hallelujah chorus on its head.
Watch the video here (via Tim Minchin's Facebook). Post continues after video:
Proceeds from the single will go to the GoFundMe campaign established by Meshel Laurie and Gorgi Coghlan this week, which has already raised $55k to send survivors of abuse from Ballarat to travel to Rome to witness Pell giving his video testimony.
You can watch them discussing it on The Project last night:
Unfortunately, their co-host Steve Price wasn't all that impressed with the campaign or Minchin's song which he labelled "disgusting".
"He has called him a coward, scum and a buffoon."
"Now this guy is the most senior Australian Catholic in the world. He is a Cardinal, regardless of what you make of it.
"To use your talent to just simply abuse someone from a distance, I think it is pathetic."
Yes, Pell is clearly, truly the victim in all of this (#Pray4Pell).
Minchin, bless him, seems aware his song may be negatively received and could potentially land him in legal trouble, he doesn't seem to bothered though.
"If you don't feel compelled to come home by a sense of moral duty," he quips, "Perhaps you will come home and frickin' sue me."
You can purchase the single on iTunes here.