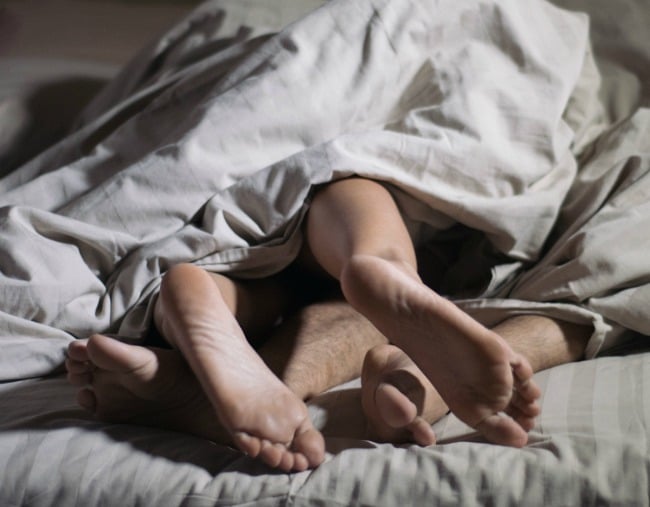 I had the perfect threesome last Friday night.
I have had quite a few of them. And I know this one was special.
I keep thinking how sad it would be if this had been my first threesome ever. Because from then on I would have been chasing the dragon. I'm so happy I worked up to the amazingness of this one.
Why was it so good? Well, I could go theoretical but it's probably just better to tell the story.
It came about because a friend I have sex with suggested it. He and I have threesomes with other women sometimes. And they are always fun.  We have it down to a fine art.
He is quite bossy, I am good at following instructions. He makes sure both women get attention, I don't get jealous. We work hard to make sure everyone gets off and feels special.
I had never met this woman, but I knew they were friends. Also friends who fuck. He said she may be interested in hooking up and I was down.
Want to know the secret to having better sex? Post continues below…
Apparently she was a little nervous so I suggested we get a nice hotel room so it felt a little sexier.  I also think, when you're on neutral ground, it can put everyone at ease.
She was very gorgeous. To the point I was freaking out because she seemed perfect in her pictures. Amazing little, tight body. Super hot. Lovely face. And also, she clearly had a brain, because you can't do her job without one. And she is younger than me, which is totally fine, but it can add another layer of anxiety.
I always spiral before a new threesome. It's my thang. So yes I admit it, I was a little intimidated.
I turned up at the hotel room and it was divine. My friend was there and he smelt delicious and we had a shot of coffee liqueur. I was all nervey and he laughed at me.
She was tiny and perfect and very sweet and kissed me and I did my dorky talk too much and overcompensate routine, which was quelled by some vodka.
I liked her. She was smart and funny. And the three of us had this crazy chemistry.
He went to the bathroom and she kissed me with her perfect tiny little mouth.
Well, ok, I thought, this is going to be fun.
He came out of the bathroom and kissed her and then kissed me and then I kissed her and it was game on. We started to feel a little high, but not icky high, just buzzy high.
He said we should take our tops off and we did.
Then we took our bras off as he watched.
She had these perfect round breasts and we looked at each other and I bit my lip.
I kissed her and touched them and he had his hands on both of our arses and suddenly we were all naked.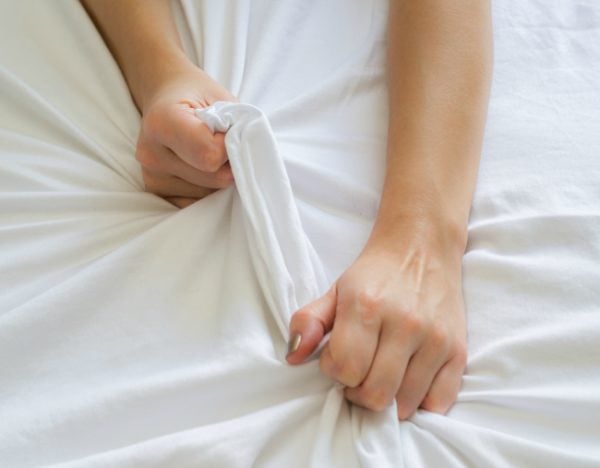 Weird how that just happens.
He picked her up and lay her on the bed and I kissed her while he went down on her and then we swapped and her pussy was perfect and delicious.
And then it was my turn.
While she fingered me he put his cock in her mouth and I was really having a lovely time sitting back and watching that. He has a lovely dick. And next we did the old switcheroo because that's fair, people. And that's how you nail a good threesome in my books.
And then ladies and gentleman, it was fuck time.
I was lying on my back and she straddled me so I could kiss her. Her bum was in the air and he was behind her. First he fucked her. She could kiss me for a while but then she got lost in the peen and I loved watching her little face. I had a great vantage point and was able to play with her clit. She made a very cute little noise and then she came.
And then we moved around so she could play with me and he could fuck me and it was breath catchingly amazing.
I'm not awesome at clitoral orgasms during threesomes because I need to concentrate really hard, but I do squirt from somewhere deep inside and as he was alternately fucking me and she was fingering me I ensured that the bed clothes would need to be burned due to the lady juices squirting everywhere.
It was an endless cycle of fucking, fingering, blowing, kissing and a little choking and spanking, which I always rather enjoying.
And the shagging continued. But in between, we had some really stimulating, funny and intensely emotional conversations. Which yes, was probably fuelled by the booze but also because we just had something cool. Something you can't quite put your finger on. Its all pheromones and chemistry, baby.
So we had sex, played, chatted and laughed for hours. There was no jealousy. There was a lot of cumming. There were some tiny little bottles of hotel booze.
Former escort Samantha X and Dr. Lauren Rosewarne explore everything there is to know about the orgasm.
Want to hear to more?  Subscribe to Sealed Section.
Then we had a spa. And then we had wine in the spa. Does it get better than wine in a hotel spa with people you like and have just fucked?
And then oh my god it was 3am.
And truly, I know now, nothing good happens after 3am.
So we called it.
The best part about a really good threesome? It's the reliving of it. It's playing out the highlights reel in your head, over and over. It's standing in the supermarket check out line and remembering that moment your knickers were removed and you gasped. Her red lips. His muscly shoulders.
It's the illicit, sensual sexy memory of it all.
Last Friday night. I want you back.