Police hold grave fears for three people still missing in floodwaters, as a 77-year-old  man became Queensland's first victim following ex-tropical cyclone Debbie.
As floodwaters threatened hundreds of properties in Logan, the body of Eagleby man Nelson Raebel was found by emergency crews on Saturday afternoon.
Police said Mr Raebel was found not far from where he was last seen near Eagelby Road on Friday afternoon.
The body of 77-year-old man Nelson Raebel found after Cyclone Debbie floods. https://t.co/3F3vgryT3i #7News https://t.co/Qs0hbdHR4W

— 7 News Sydney (@7NewsSydney) April 1, 2017
Three others are still missing, including 50-year-old Mondure man David Heidemann and a man in his 60s who went bushwalking at Lamington National Park.
A fourth person is missing in cyclone-battered Mackay.
On Saturday morning, police rescued an elderly man from public toilets at a flooded park, after the river rose to near-record levels.
The man was pushed through fast-moving, ankle-deep water by two officers at Tygum Park as about 20 people who had come to inspect the floods looked on.
It came after swift water rescue workers helped three women and two babies escape floodwaters at Waterford West on Saturday morning.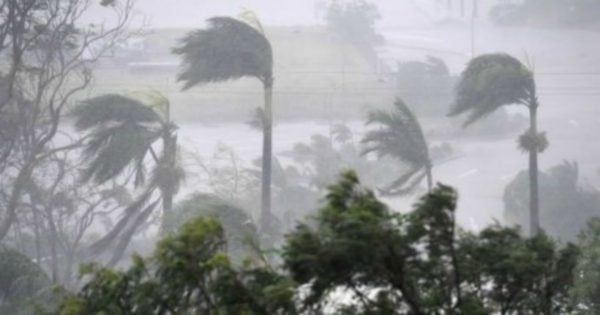 In NSW, two women, aged 36 and 64, were swept away by floodwaters, while a 46-year-old man died in Murwillumbah from a heart attack when paramedics couldn't reach him.
Prime Minister Malcolm Turnbull and NSW Premier Gladys Berejiklian will see firsthand the damage in flood-hit regions of northern NSW when the two leaders tour Lismore and Murwillumbah today.
The full cost of near-record flooding won't be known for some time, with many residents not yet allowed to return to homes or businesses. The SES gave residents the all-clear to return to homes in Tweed Heads and Lismore's south, north and CBD on Sunday afternoon.
Ms Berejiklian said emergency services were on standby with equipment to drain water and hose down buildings.
"We know it's very frustrating and people want to get back to their homes," she said on Sunday.
"In some places the water has receded, but please heed the warnings."
Rockhampton prepares for a massive flood https://t.co/ks5wp9Oijn #Rockhampton #7News https://t.co/zFrqk14AY0

— 7 News Sydney (@7NewsSydney) April 2, 2017
In central Queensland, Rockhampton is bracing itself for its worst flooding in more than 60 years as the clean-up after Cyclone Debbie continues.
Forecasters warn the Fitzroy River will surge to a peak of 9.4m on Wednesday, an inundation not seen in the town since February 1954.
A temporary levee has been erected around Rockhampton Airport, which is due to close at noon on Monday as the waters threaten to swamp the runway.
More than 3000 homes and 1500 businesses in low-lying parts are expected to be affected by the flooding, as well as roads and railways.