Heels may get a bad rep but it's actually the shoes you turn to for a more comfortable/practical alternative that may be worse for your feet.
Yes, that means those cute summer sandals, your trusty thongs and even the sneakers you wear to give your feet a break.
"Heels are often seen as the bad guys but flat shoes tend to be the ones that cause most of the problems due to the biomechanics of your foot," explains Kate McArther, podiatrist and owner of Sydney's City Feet clinic.
"Essentially your big toe is big for a reason, acting as a lever. Your little toes can claw to hold on. With flats, if you're having to claw to hold on, then you're using your little toes as a lever rather than the big toe."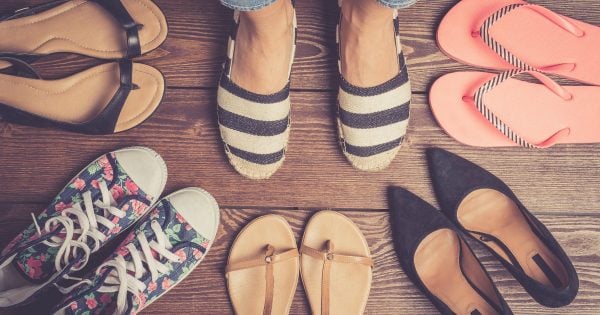 Bottom line - the more straps or fabric holding your foot down, the better.
"One strap at the front and a cardboard-like bottom - you're going to have to hold on for dear life just to get your foot moving," she says.
Anything with too much toe cleavage (we're looking at you, ballet flats) is pretty much the worst. As are any shoes with plastic soles, which are not so great because your foot tends to slip around in them.
Sneakers, which have enjoyed a huge fashion comeback this year, can also cause problems.