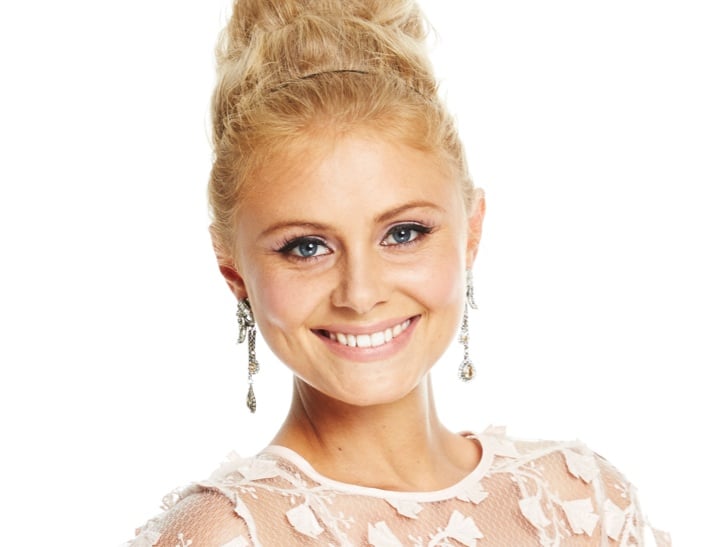 We sat down to speak to Michaela Baranov, 24, who is one of the top 10 contestants on this year's series of X Factor.
Pint-sized with a husky drawl and contagious cackle, Michaela Baranov quickly won hearts around Australia with her powerful audition of Sia's 'My Love', dedicated to her Dad who passed away just 6 days before she started on the show.
Under the guidance of coach Dannii Minogue, Michaela has captivated us all with her bubbly energy and seemingly flawless adaptation to the world of celebrity of performance.
Seriously, this woman seems like she's done this all before. Why? Because she HAS done this all before.
At just 21, Michaela turned her high-school dreams into a reality when she packed up her things and moved to America in hot pursuit of a popstar career.
 A six-week sojourn turned into a three-year stay that took her from New York to France, L.A. to Dubai, and Santa Barbara to Spain.
Performing at all kinds of shows, Michaela quickly learnt everything from the art of styling yourself for the stage, to keeping punters dancing from midnight to 3am on a Greek party island. By the age of 23, she was already an old hand at the music industry.
But, three years into her adventure, tragedy struck.
Michaela's dad, Paul, was diagnosed with an aggressive form of cancer and was given only months to live. Turning down a glamorous contract at the Walforf Astoria in Dubai, Michaela jumped on a plane and came home. Despite a brave battle, Paul passed away earlier this year with wife Linda, and daughters Michaela and Alexandra by his side until the final moment.
Still in shock and barely able to process what was happening, a mere six days later Michaela decided to push through and attend the X Factor auditions. Eyes closed and resplendent in a black floor length gown, she soared her way through the heartbreaking 'My Love' by Sia, leaving not a dry eye in the house. Stumbling only briefly in tears for a moment, she picks herself back up and ends the song with a gutsy finish in memory of her dad, who we're sure would have been so, so proud.
Watch Michaela's live audition performance below. (Post continues after video)
Chatting to Michaela, her enthusiasm is infectious.
I ask for the behind the scene goss, and hear the tales of reality TV – the highs (sparkly costume planning with Dannii,and on-set catering that's a little too good) as well as the lows (6am starts and nightly curfew, and long stints apart from handsome boyfriend Seve).
FIVE FAST FACTS ON MICHAELA BARANOV

1. She was born deaf.

"I was born deaf, and I had my first ear operation when I was three – so that was when I started hearing. I have over 20 operations since, and I am still deaf in my right ear."

2. She's the exact same height as Dannii Minogue

"We actually measured ourselves and we are exactly the same height – 158cm tall. I like it, because she sees the world the way I do!"

3. Her back-up career option is presenting on Better Homes and Gardens

A long time fan of the show, Michaela is convinced that if the pop star thing doesn't work out, she's happy to get her hands dirty out in the garden instead.

4. She worked with Ian 'Dicko' Dickson

At 16, Michael won the prestigious Australian Children's Music Foundation singing competition, which inspired her to go on to volunteer for them at 18. During her time there, Michaela worked with both John Spencer and Dicko helping bring music to disadvantaged kids around Australia.

5. She's a massive Shania Twain fan.

Apart from Rihanna and Taylor Swift, Michaela is a long standing fan of Shania Twain – "You can't listen to Shania Twain's album and not smile and dance!" Don't worry, Michaela – we 100% agree.
Girl to girl, I just HAD to ask Michaela about her recent live performance of 'Holding Out For A Hero', where her skirt was ripped off halfway through by a gaggle of shirtless male dancers. What was that like, been dacked in front of a national audience?!
"I was so nervous about that performance! So far on the X Factor so far has seen my serious and emotional side, and I wanted people to know I am an energetic and fun person. With the skirt getting ripped off, I thought it was a really fun part – I kept giggling in rehearsal. But it was a hard performance – keeping your vocals steady whilst moving around is so hard to do. Madonna and Britney Spears make it look easy!"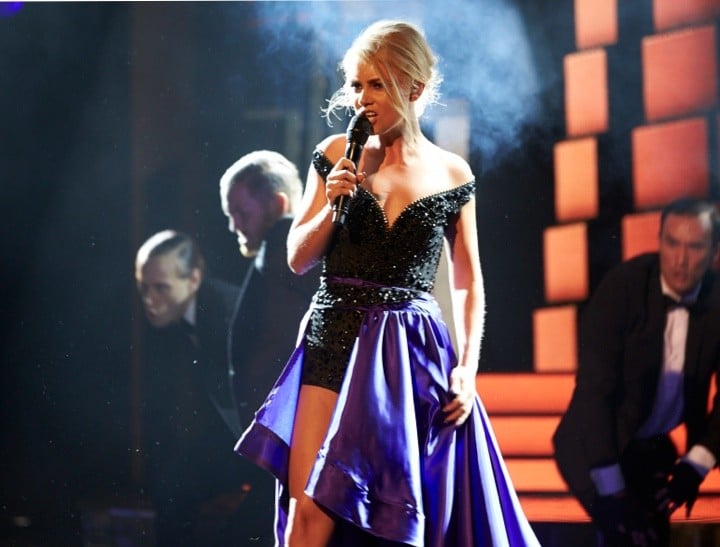 Gen Y is often targeted for their unmotivated and lackadaisical approach to life, but Michaela is proving everyone wrong with her journey to the top.
"I've always been a very strong willed person," says Michaela, "and that's really come out in this competition. I'm in it to win it."
And we believe it, girl.
You can see more from Michaela and The X Factor 2015, here.