Weddings are a waste of money. I remember thinking that the first time someone close to me got married.
This family member – who at the time was training to be an accountant – arrived home after her honeymoon, sat down with a folder of receipts, a calculator and a computer and proceeded to construct a spreadsheet outlining exactly how much money she and her new husband had spent getting hitched, being sure to include all the costs from the moment he got down on bended knee.
The total: $60,000, which almost 30 years ago was an extraordinary sum of money to spend (it still is, TBH). "I could have used it as a deposit for a house," she said.
"True," I wanted to say, but didn't.
Monique Bowley, Jessie Stephens and Mia Freedman talk about wedding costs. Article continues…
But if she sat down and really thought about it, I don't think she would have done anything differently because her wedding was amazing. Everyone they wanted to attend was there, she looked incredible, the video and photos were excellent and the memories, priceless.
And it's not like she spent millions, like the story of Peter Campbell and Alex Carl which has hit the news this week for all the wrong reasons.
The Washington Post reports that the bride's family and wedding-planner-to-the-stars Mindy Weiss are fighting it out in court over her unpaid almost $400,000 bill. The family says Weiss was not authorised to spend so much. Weiss says a budget was never mentioned.
And now Weiss is holding the wedding video hostage so the bride and groom haven't been able to relive the moment she walked down the aisle wearing Oscar de la Renta, or the hot air balloon rides.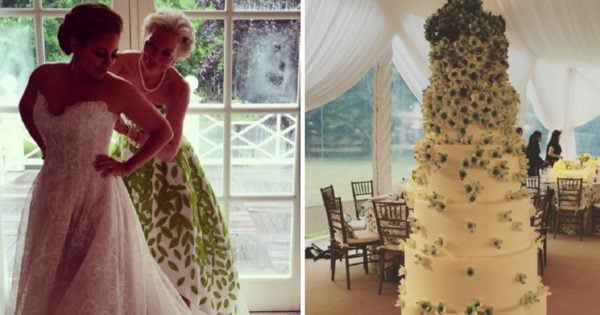 Their situation is proof your wedding can still end up in disaster if you spend millions on it.
Then there's Emily Hardman and Rob Reading, who spent just eight days planning their wedding and spending less than $5000 on it, the bride wrote for the New York Times.
Here's how they did it.
They bought $10 wedding rings from Walmart. The bride's dress was made out of a $10 shirt. They decided not to waste money on flowers.
And while some may think this story is just as bad as a wedding that cost $5 million, they are missing the point entirely.
At the end of the day, a wedding should cost whatever the couple are willing to spend on it. It's there decision what kind of wedding they want to have, who to invite, how many tiers to have on their wedding cake and how much money they want to spend of food.
Sure, all weddings are pretty much the same, with nothing much to set them apart.
Except the couple.
That's what makes them special.
Don't judge the wedding in any way, shape or form is my advice. Just accept the wedding the couple getting married wants to have and focus on celebrating their love, because that's why you've been honoured with an invitation.
Regardless of how budget or over-the-top a wedding is, I still look at the couple as they exchange vows, those two faces I know so well, the tears welling up in their eyes, and feel complete and utter happiness for them.
Listen to the full episode of Mamamia Out Loud.
To subscribe to Mamamia Out Loud in iTunes go to apple.co/mamamia where you'll find all of our shows in one place and any books written by the many Mamamia guests.
Do you think there is an ideal amount of money to spend on a wedding? Answer in the Comments section below.