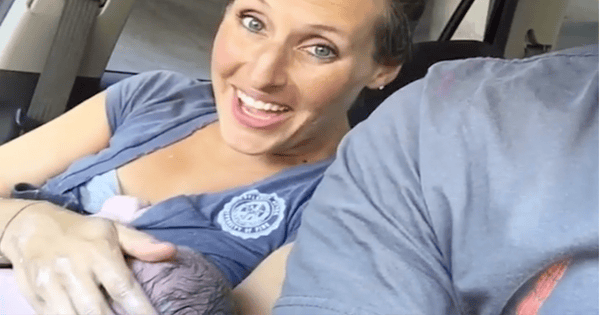 Parker Pride Snider certainly knows how to make an entrance. The granddaughter of 80's hair rocker Dee Snider was born two weeks ago on Los Angeles's 405 Freeway.
The Twisted Sister frontman's son Jesse Blaze Snider (also a singer/songwriter) and his pregnant wife Patty were on their way to the hospital when they got stuck in traffic on Los Angeles's notoriously jam-packed 405 freeway. As we all know, babies wait for no one so, Patty gave birth to the couple's fourth child in the passenger seat of a moving car in the middle of the busy Los Angeles freeway.
"We just had the baby in the car on the way to the hospital," Jesse says in an Instagram video he posted shortly after the birth.
"Parker Pryde. We think born at like 2:50ish," Jesse proudly proclaims.
Patty apologises, "We didn't look, sorry Parker."
"We were a little surprised by it all," Jesse says while Patty breastfeeds the baby next to him. "We waited a little too long to leave, I think. But the baby's healthy and already breast-feeding, and we love her."
Proud grandpa Dee Snider was on tour with Twisted Sister at the time, so he took to Twitter to voice his excitement over his new granddaughter and her very rock 'n roll entrance into the world.
Eventually, the couple and the baby made it to the hospital and Parker was cleaned up so that she was ready to join her similarly superhero named siblings, brothers Grayson Wayne, Logan Lane, and sister Cassidy West.
Congrats to the entire Snider family.