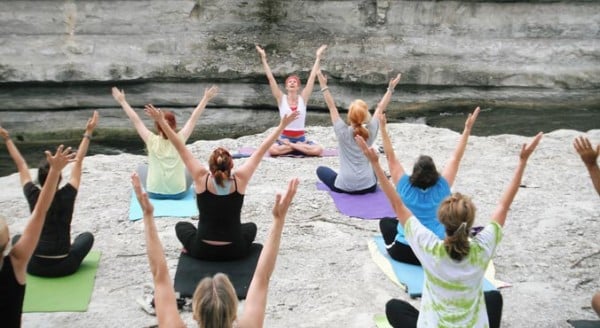 Head for the Red Tent! Image via iStock
Ever been at a festival, got  your period and wished there was a place just for women menstruating like you?
Now there is.
Seven Sisters Festival, a three-day New Age women-only event which takes place this month in Victoria, features a "Red Bleeding Tipi" for menstruating women. Festival Director Lauren Woodman describes the tent as a "natural addition" to the festival and a place designed to "encourage and educate women about honouring their bodies and natural rhythms".
RELATED: We've just busted one of the biggest period myths of all-time. Period
Inside the tent, you'll find everything you have ever screamed at your mum/sibling/significant other to bring you when you've got cramps.
We're talking soft cushions, blankets, hot water bottles, chocolate, herbal teas, art materials, soothing music and even a special 'Red Tent Priestess' from the Shamanic School of Midwifery to attend to you. If only it was like that at home.
The tent is one of several in The Tepee Village, which also includes a Pink Tepee for all women, the Earth Tipi with counsellors available, and the Red Tepee Womb Art Exhibition.
Designed to be a "journey", the festival describes itself as a place where "women can embrace whatever stage and age they are in", and "collectively celebrate what it is to be a woman in all her shapes, colours and forms".
However, if that means sinking a bottle of chardonnay to you, you may be disappointed. Alcohol (and men, obviously) are banned, while the use of mobile phones is strongly discouraged.
RELATED: You're not pregnant but your period has changed. Here's why
And so it should be. Lauren decided to set up the festival in 2012 to encourage woman to devote more time to holistic health.
"I wanted to create a festival that would allow them to leave behind the demands of everyday life for a few days and experience a range of techniques including yoga, ayurvedic healing or massage," she told the Mornington Peninsula Leader.