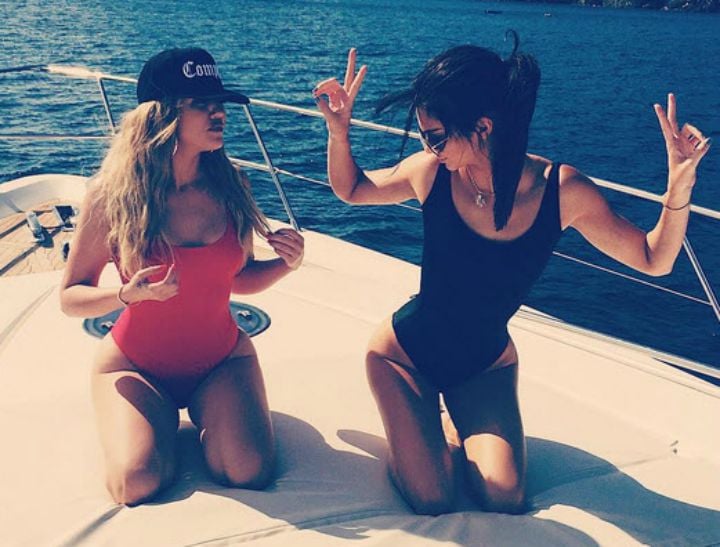 OK, here we go.
If you don't know what 'thighbrows' are, stop reading and enjoy your life free from the constraints of another contrived social media trend started by the Kardashian-Jenners.
If you kept reading against your better judgement, a thighbrow is the eyebrow-shaped fold of skin between the upper thigh and torso when the leg is bent forward. And apparently it's all the rage.
Sorry, what?
Ever since Khloe Kardashian posted this picture of her and her sister, Kylie Jenner, in high-cut bathers, thighbrows have been a thing.
According to the Daily Dot, the thighbrow is best shown off in a 'frong' – a frontal thong or very high-cut bathing suit. (Is it just me or are these made-up word combinations really hard to keep up with?)
While having a skin fold between your leg and torso seems like a far more achievable body goal than a thigh gap, it also requires high-cut bathers and a regular hair removal regime. No, thank you.
I was all for the trend when I thought it meant having leg hair so long that you could shape it into an eyebrow. But now, not so much.
The thighbrow is being hailed as a body-positive movement because 'curvy' celebrities – including Beyoncé, Rihanna, and Khloe Kardashian – have been 'showing theirs off' (if showing it off constitutes having the line that naturally occurs between a bent limb and torso visible in a photo).
But experts are sceptical.
Body-positive fitness coach and University of New Hampshire Professor Courtney Marshall told the Daily Dot it's a new version of the same old 'bikini body' tripe.
"I don't see how this can be called a body-positive trend when it requires a high-cut bathing suit," she said.
"It also seems to require a flat belly, so that line about it being achievable for anyone seems fishy."
So, uploading photos with the #thighbrows hashtag is a thing now? Skin folds are now being celebrated? We're so confused…
Don't worry. Like #thighgap, #hotdogsorlegs and #bikinibridge, it seems to be just another thinly veiled excuse to take bikini and underwear selfies.
Let's just hope it doesn't take off.
This is what you'll find under #thighbrows: