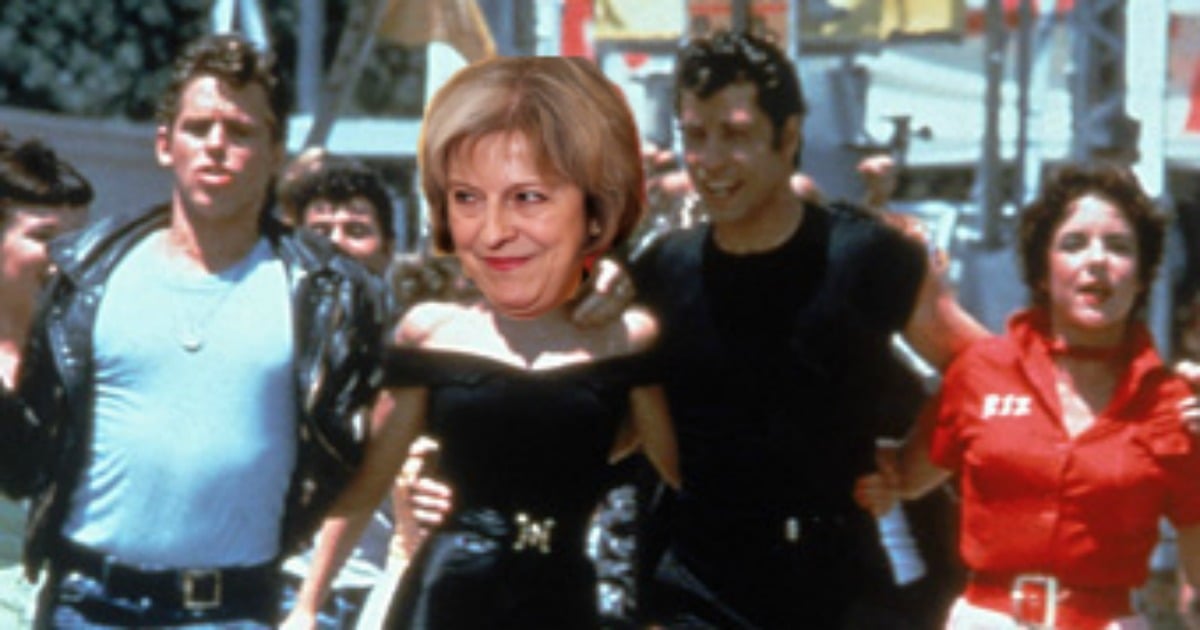 So, chances are if you're reading this it's because you want to know what the hell is going on with Theresa May's leather pants.
Yes, the Prime Minister of the United Kingdom wears leather pants. Bad ass, right? It's all very exciting if you ask us, but given the media storm surrounding the incident, we thought it would be a good idea to take a closer look at the situation.
Why do we care? Who started the argument? What do they represent? Where can we buy a pair?
In brief, the UK is a bit tight on coin at the moment.
Following their decision to exit from the European Union earlier this year, the British pound fell dramatically to a three-year-low against the Euro.
Brexit, as it's now known, has thrust the country into uncertain economic times, and like a family being told to tighten their belt, the UK is now very conscious of public spending.
And up there in the spotlight to set a frugal example is Prime Minister May. The former Home Secretary snatched the top job in July following the post-Brexit resignation of David Cameron. At the time, the Conservative Party leader promised a better Britain, a more equal Britain.
Then this week, the 60-year-old made the critical error of trading in her hessian bag frock for a very fancy, very expensive pair of designer leather pants.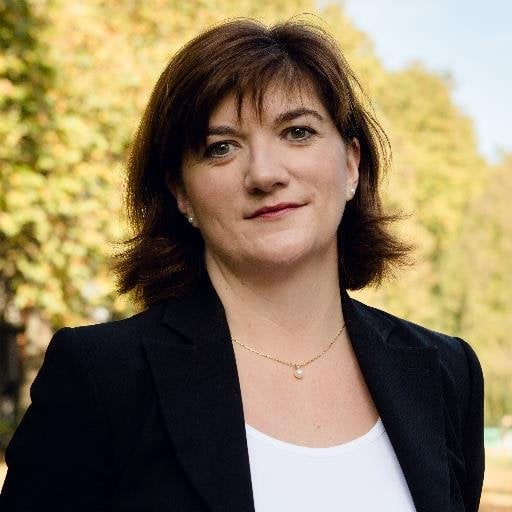 The leather-pants-controversy (which they are calling 'Trousergate', lol) is a swirling, sniping, tit-for-tat between herself and the quintessential English matron herself, Nicky Morgan.
Ms Morgan is the MP for Loughborough, and was recently stood down from her role a Minister for Education following an unpopular bid to turn all English schools into academies by 2022. Nicky Morgan also likes to argue with fellow Conservative Theresa May, and has done with great zest since 2014.
Nicky Morgan doesn't wear leather pants.
Nicky Morgan is not amused.

Just like good old Bernard Salt managed to distill our Australian housing cost crisis down to a piece of avocado on toast, Nicky Morgan is using the $2,000 AUD leather pants as a symbol of Theresa May's spending habits. Flamboyant! Unnecessary! Impractical!
"I don't have leather trousers," said Morgan, smoothing out the wrinkles of her $15.99 H&M blouse.
"I don't think I've ever spent that much on anything apart from my wedding dress."
(*Note from author: this is an actual quote. Yes, I know.)
Tight-lipped and very disapproving, Nicky Morgan went on to say that those FANCY leather pants would have no place in her town of Loughborough, particularly when up against the litmus test of 'could I wear these to the local pub?'
"My barometer is always: 'How am I going to explain this in Loughborough market?'" said Ms Morgan, adding that the pants in question had been "noticed and discussed" among the Tory party.
Goodness. Not since Lenny Kravitz's unfortunate onstage 'drop and squat' dance incident have leather pants seen such controversy.
It seems like a rather odd choice of attack from Ms Morgan, who - as the media have gleefully pointed out - herself favours a $1,440 AUD Mulberry handbag.
Eyes up here, Minister - don't you think there's more to Theresa May than the pants she's wearing?
Noticeably absent from Nicky Morgan's fashion police hit list are the 455 male members of parliament, many of whom would be scooting about Westminster in suits that cost far more than Those Leather Pants.
Actually, about twice as much.
Ermenegildo Zegna, 'Blue Trofeo' Suit - $5,055 AUD.
Brioni, Continental three-piece pinstripe suit - $9,218 AUD.
Brooks Brothers, Regent Fit Chalk Stripe 1818 Suit - $$2,537
Also, everyone knows that being dressed for a photoshoot isn't the same as dressing for real life. It's a carefully constructed 'domestic' scene with 'comfortable' clothes that are meant to look all very casual and accidental. Pfft. Yeah right.
Like, do you REALLY think that Reese Witherspoon wears stilettos whilst preparing dinner?
No, Nicky Morgan. She doesn't.
And finally, can we spare a moment to approach Those Leather Pants from an economic perspective?
Amanda Wakeley - the designer behind the leather pants - is a player of the bountiful UK fashion industry, which employees around 555,000 every year, and contributed £28 billion to the domestic economy in 2015 alone.
Of that, womenswear sales (including Those Leather Pants) came in at £27 billion in the UK in 2015, which is predicted to grow by 23% by 2020 to £32billion.
British-owned fashion houses such as Alexander McQueen, Ted Baker, Paul Smith, Dr. Martens, and Burberry are all well-loved brands to come out of the UK and bring considerable revenue back in.
Fair to say that once the dust settles, Amanda Wakeley can be added to that list, too.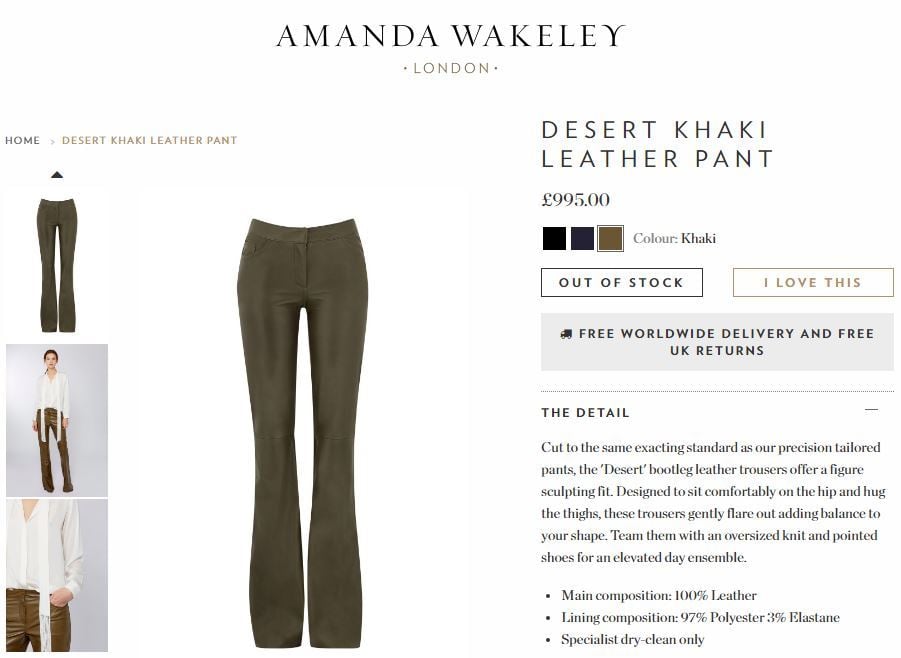 Regardless: where there's smoke, there's fire. And the Twitter hotline is lighting up with disgruntled British public airing out their disapproval of Ms May's pants.
This man believes the pants are stealing food:
This woman is sure that the pants are stealing heating:
And this lady insists the pants are just a decoy:
Theresa May's trousers have joined a long list of controversial leather pants.
From Sandra Dee to Mick Jagger, everyone who's anyone has had their fair share of hotly-debated pant-wear. We say ramp it up love: go the whole hog and get a leather suit. Leather boots. Leather jacket over the top, and leather accessories. A whip. A leather mask. Show that snooty Nicky Morgan who's boss.
Now, if we're done with the show - could we get back to business? Theresa May might be fabulous, but she's also got a job to do. Ya know, digging a major world power out of their greatest social and economic crisis of modern history.
Eyes up here, Ms Morgan.