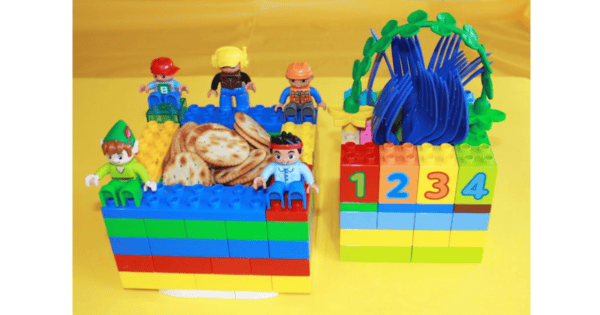 LEGO DUPLO is a big hit with young kids, especially mine. My youngest recently turned two and would have loved a LEGO DUPLO themed party.
Given we were overseas when he celebrated his birthday, he got a balloon and some chicken nuggets. If you're into themed birthdays, LEGO DUPLO is an awesome, colourful and surprisingly easy option. Here are some simple ideas on how to throw a great LEGO DUPLO party.
Set up a 'building site'.
Set up some small tables and chairs and put piles of LEGO DUPLO bricks on each, or just dump a big pile of bricks in a clear area on the floor. The kids will love using their imaginations to build awesome structures while their parents enjoy not having to constantly check if their offspring are feeding chocolate cupcakes to the diabetic dog.
Build some serving bowls.
Confiscate your kids LEGO DUPLO collection while they aren't looking and build some colourful serving bowls. Or better yet, get your kids in on the building fun. It's probably a good idea to wash the bricks before using them to serve nibbles. You can also use the bowls to hold cutlery or straws. Super fun and easy.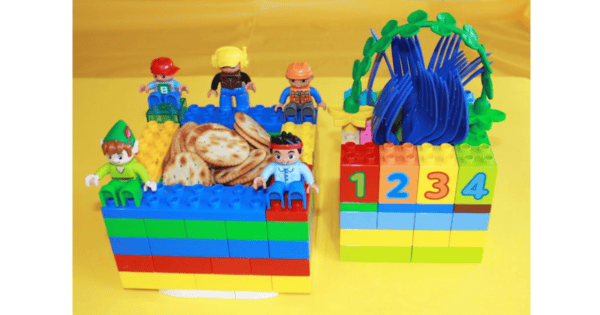 Perfect for holding biscuits and cutlery. Image: supplied.
Make custom party bags.
Head to your local two-dollar shop and grab some plain coloured party bags, some cardboard in the same colour and some sticky tape.
Using a round-shaped item (I used the bottom of a measuring spoon) and a pen, draw six round shapes in the cardboard. Then cut them out and stick them on the front of the bag using sticky tape. You now have an awesome LEGO DUPLO party bag. Fill it with a few LEGO DUPLO pieces for a healthy and allergy friendly option and the kids will be thrilled.