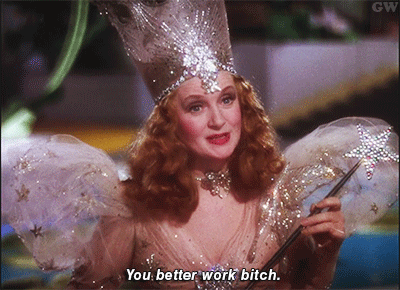 By ROSIE WATERLAND
The Wizard of Oz is one of those classic movies that kids and adults can enjoy. And by that, I mean it's like one of those cartoons that kids love without realising there's a whole bunch of dirty jokes that the adults are laughing at.
I know this because I just watched it again as an adult, and came to the stark realisation that The Wizard of Oz is basically an epic thriller about a notorious crime gang, filled with murder, intrigue and psychopaths. With munchkins for the kids.
Allow me to explain.
So there's this chick called Dorothy. She lives on a black and white farm in Kansas with her dog Toto and her aunt and uncle. Everybody is busy working all the time, and that leaves poor Dorothy and Toto feeling quite lonely. Dorothy could help her family with stuff that needs to be done around the farm, but instead she's like, "Nah, I'll just walk around looking sad and singing about rainbows." Kind of selfish, if you ask me, but whatevs.
Toto bites some crazy neighbour on a bike and she threatens to have him put down. Dorothy is all, "Woe is my life! I'm running away!" But just before she leaves, a big tornado comes, picks up her entire house, and drops it in a colourful land where lots of little people sing everything they say.
It turns out Dorothy's house landed on some chick called the Wicked Witch of the East, and she dies. So technically, and I don't mean to nit-pick here, but Dorothy is kind of a murderer. Or she should at least be up on charges of manslaughter.
The East Witch's sister, the Wicked Witch of the West, is kind of devo. Like, her sister just died. She's understandably very pissed at Dorothy. There's also a massive inheritance involved: The East Witch has a pair of shoes made entirely of freaking rubies. If you sold those on ebay, you'd get like, Ocean's 11-level kind of money.