1. The clear sign The Veronicas' feud may well and truly be over, as Ruby Rose visits Australia.
It may just be that the very public feud between The Veronicas is over, with the sisters performing onstage together for the first time in nearly six months.
Taking the stage at the Newcastle Supercars, the duo performed their single On Your Side holding hands and embracing throughout the performance.
"Felt so good to be back on stage screaming tonight," Jess captioned a post of her performing on stage.
The sisters and musicians first made headlines earlier this month, after Jess' girlfriend Ruby Rose tweeted and then deleted a jab at Lisa, suggesting she does not support same-sex relationships as much as she publicly purports to do so.
In the wake of Australia voting Yes to same-sex marriage, Ruby claimed Lisa previously told her and Jess they "should feel lucky" they don't get stoned to death like they do in other countries and to "get over it".
In a statement just a couple of days later, 32-year-old Jess has released a statement about the struggles of the LGBTIQ community and seemingly called out her sister.
LISTEN: Everything you need to know about the Veronica's tiff. Post continues after audio.

"With the current conversation that was happening in the lead up and outcome of the marriage equality results this week, I feel it is necessary to share some feelings," Jess wrote.
"I may not have struggled with an inner turmoil, but that doesn't mean I haven't struggled with people close to me, degrading my sexuality because of their own personal judgments or ignorance.
"People can publicly support the LGBT community, but behind closed doors inflict deep pain because of their own inability to accept or understand you as a part of that community.
"That can be a particularly difficult and heartbreaking experience. But one that has been a private and real struggle in my life."
Perhaps water under the bridge and all that?
If not, we'll be finding out, with Ruby Rose visiting Australia for the ARIA's on Tuesday.
2. Buckingham Palace finally responds to rumours about Prince Harry and Meghan Markle's engagement.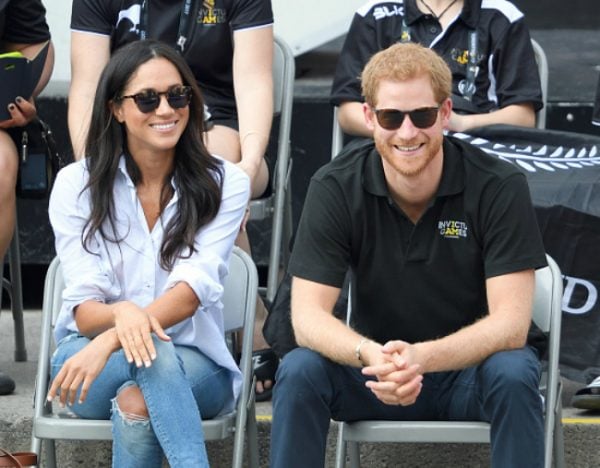 It's pretty rare for Buckingham Palace to respond to rumour or innuendo of any kind, and in particular the British tabloid kind, but that's exactly what they've done this week.
In the wake of the rumour mill falling over itself trying to predict when an engagement could come, if at all, a spokesperson for the Royal Family responded to the frenzied reports, saying they "would not give a running commentary on Harry's love life".
It comes just weeks after bookmakers confirmed they suspended all bets on an engagement announcement and a month or so after reports speculated the Suits actress would not return to the series next year.
It's also believed Markle has moved out of her Toronto apartment and will be now living permanently at Kensington Palace.
3. Why Margot Robbie only wears her wedding ring on weekends.
If you spot Margot Robbie without her wedding ring, rest assured, her marriage is going just fine, thanks for asking.
In an interview with Vogue Australia, Robbie said she only ever wears her wedding ring on weekends.
"That's the thing, we were best friends and roommates before and now we're like best friends and roommates still, so nothing's really changed at all," she said.
"Other than the fact that I get to wear this on the weekends."
"I can't obviously wear it during the week when I'm working. I don't want to lose it on set."
The couple, who are fast approaching their first wedding anniversary together, married in Byron Bay in December last year after meeting on the set of Suite Francaise in 2013.
4. Fifi Box has confirmed her relationship after one year of dating.
It may just be the worst kept secret of 2017 - but those are by far our favourite secrets.
After months of persistent rumours (and invasive paparazzi shots), radio and television personality Fifi Box has for the first time spoken about her relationship with Neighbours actor Damien Richardson.
Speaking to the Herald Sun, Box said, "I am really happy at the moment and fortunately off the dating scene".
"I am happy in my relationship, I am loving my job, but more than anything my absolute priority is Trixie," she said of her four-year-old daughter.
"Any of my relationships, they have snuck up on me or they spring into your life and you go: "Wow, I did not see that coming",' she added.
Richardson was finalising his divorce with his then-wife Nicole when he met Box, who was making a guest appearance on Neighbours.
Back in May, she spoke about her new partner on her breakfast radio show, using the alias 'Steven'.
"I like him very, very, very, very, very much. He's everything I wanted," she said.
5. When you're Kim Kardashian, even the ice cubes at your baby shower are spectacular.
Just over two weeks ago, Kim Kardashian threw a cherry-blossom themed baby shower for baby number three.
She was joined by all her sisters, celebrity hair stylist Jen Atkin, Chrissy Teigen and Buro 24/7 founder Mira Duma, and the party was so well documented on social media we probably didn't even have to go. We already had the full experience on our iPhones.
But on Sunday, Kim shared a photo we hadn't seen from the day, of one of the only aspects of the baby shower people typically don't obsess over: the ice cubes.
THEY HAD FLOWERS IN THEM. AND THEY LOOK LIKE PINK ROSES.
... How? And... why? And also, are they edible?
Who knows... but somehow we think she's started yet another enviable trend.