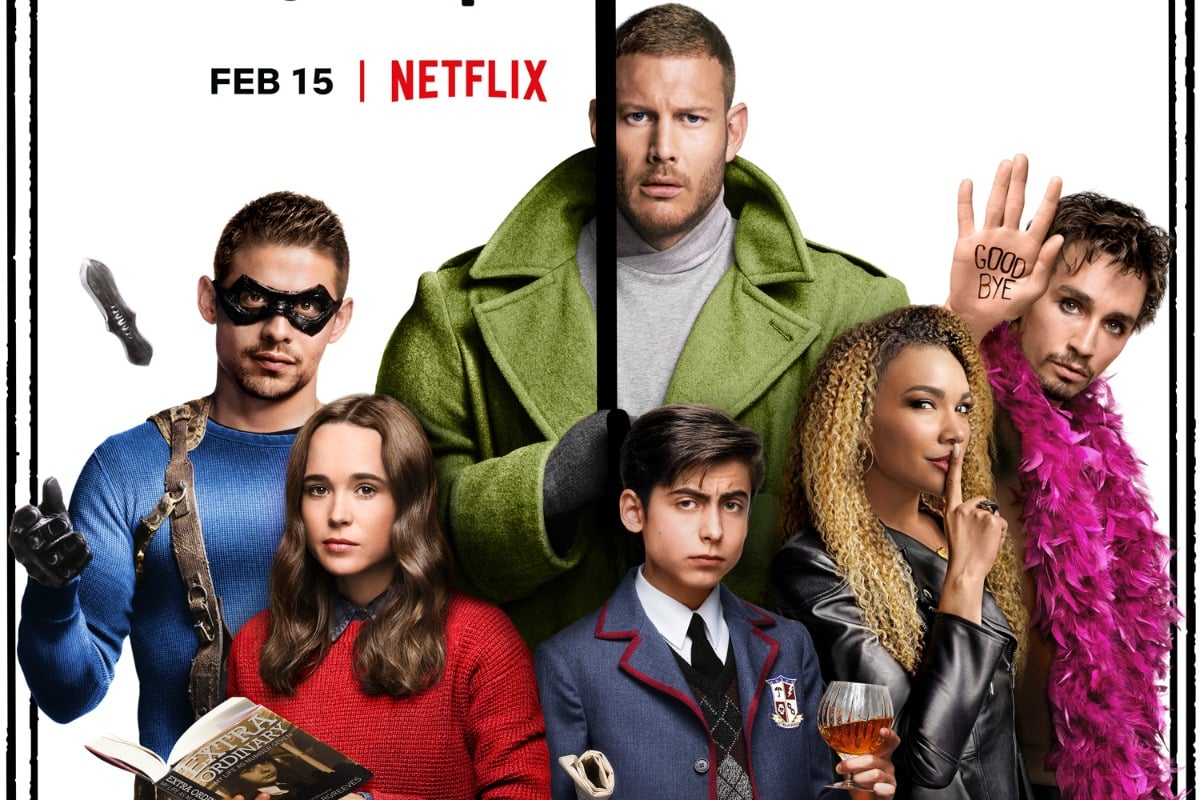 For any TV viewers out there begging to be saved from the glut of superhero-inspired TV shows and movies currently making their way to onto our screens, I'm here to tell you that your prayers have not been answered.
The good news, however, is that while they're not set to be defeated anytime soon, superhero shows are diversifying and becoming smarter, more off-beat and a whole lot darker.
The newest kid on the superhero block is The Umbrella Academy, Netflix's latest original offering that dropped onto the streaming service on Friday 15 February.
In the series, 43 infants are inexplicably born to random, unconnected women who showed no signs of pregnancy before they all gave birth on the same day in 1989.
Seven of these 'miracle children' are adopted by Sir Reginald Hargreeves (Colm Feore), a billionaire industrialist, who creates The Umbrella Academy and prepares his "children" to save the world.
But of course, not everything goes according to plan when it comes to a house full of super children and the robot mother programmed to raise them.
During their teenage years, the family fractures and the team is disbanded and the only thing that can bring them back together decades later is the mysterious death of their "father". And of course, a looming apocalypse.
You can watch the trailer right here. Post continues below…
Since they were seen as more experiments or weapons than actual babies at the time of their birth, the children were initially given numbers instead of names.
Number 1 is Luther (Tom Hopper) an oversized man with immense strength.  Number 2 is the knife-throwing Diego (David Castaneda), while Number 3 is Allison (Emmy Raver-Lampman), a famous actress with the power to tell someone a lie and then make it come true.
Number 4 is Klaus (Robert Sheehan) who can see the dead (which includes his adopted brother, Ben, who is Number 6) and Number 5 who is known as "The Boy" (Aidan Gallagher).
Then there's Number 7, called Vanya (Ellen Page), the one adopted kid in the pack who wasn't special and appears to have no detectable powers. It was because of this that she was held back from the team crime-fighting and superhero activities by her father and so ended up writing a tell-all book about her life that ruined everyone's reputation and saw her family furious with her.
It is this exploration of complicated family and sibling dynamics that proves to be the most interesting element of  The Umbrella Academy, which is much more grounded in reality than other superhero shows currently on offer.
The series is beautifully shot and each scene looks as if it was plucked directly from the pages of a perfectly crafted graphic novel, which makes sense because The Umbrella Academy is based on the award-winning comics created and written by Gerard Way (of My Chemical Romance) and illustrated by Gabriel Bá.