Here is a comprehensive list of people who do not belong in Fiji:
Stu Laundy
Jarrod… Woodgate.
There's not enough sunscreen in the world that will stop them from becoming offensively sunburnt this entire time, and it's giving all of Australia anxiety.
OH SHHH PLS IT'S OSHER.
He is on holiday in Fiji too, in a villa not particularly close to anything, but he doesn't care because you can tell by his a) face and b) shorts that he was very excited to be invited.
Speaking of shorts, Osher has the calves of a European man who spends a great deal of time outdoors. And we like it.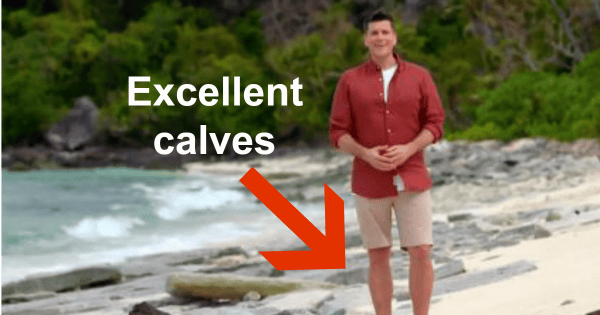 We begin with Jarrod meeting Sophie's parents, but not before eight solid minutes of unnecessary flashbacks. WE WERE THERE. ESPECIALLY LAST NIGHT WHICH HAPPENED LESS THAN A DAY AGO.
They met six weeks ago and according to our calculations that was LAST MONTH, which is too soon for flashbacks. Jesus.
Our response to most of this episode is as follows: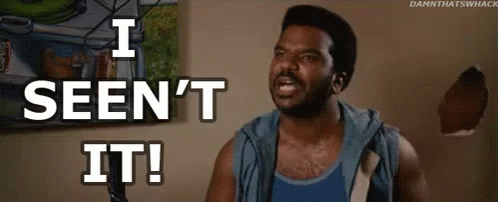 "To this day I still remember how beautiful she looked," Jarrod says about the time he met Sophie a few sleeps ago.
Meanwhile, Stu is insisting, "I've never taken my focus off Sophie... Not from the first day I've been here," and HOLY SH*T YOU'VE BEEN HERE THREE WEEKS. We haven't even paid a goddamn phone bill in that time.
Anywho.
Sophie is busy, having flown from Australia to introduce two guys she met in Australia to her parents who also live in Australia.
¯\_(ツ)_/¯
She describes the men to her parents and they seem all happy until she's like "lol one of them is still married lol".
Ugh, Sophie pls.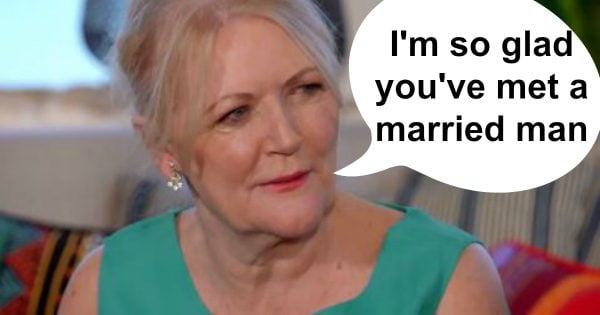 Stu pretends to be impressed by Fiji even though we're 90 per cent sure he owns at least four of his own islands. Sophie introduces him to her family and something comes up about him being 44, and they all make a point of congratulating Stu on his age.
Sophie's sister decides to grill Stu about how she read in the Daily Mail once that he's a bit of a player and he looks disappointed but also a little bit... chuffed.
He explains he had a "couple of years of being an idiot," but "now that's over" and she seems satisfied.
Stu insists he hasn't been this happy in 20 years, which remains problematic given his status as a father of four daughters under 20.
IT'S JARROD'S TURN NOW.
And here's the thing.
Mum's love Jarrod.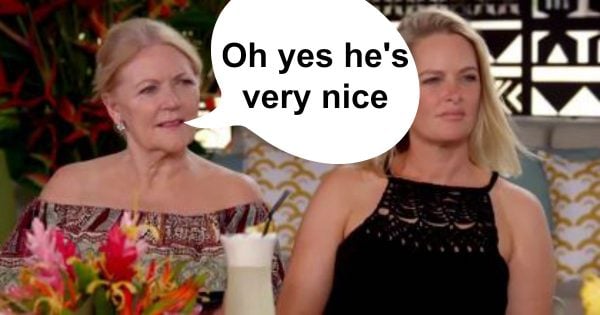 Every mum wants their daughter to be with a Jarrod but most daughters end up with a... Sam.
He (obviously) picks Sophie's mum a bunch of flowers from god knows where and so immediately wins her over. "Sophie has helped me involve into someone I should have been a long time ago," Jarrod says, and no one even picks up on the fact he just said the word involve. 
Oh.
Jarrod and Sophie's mum are holding hands and walking towards the water alone.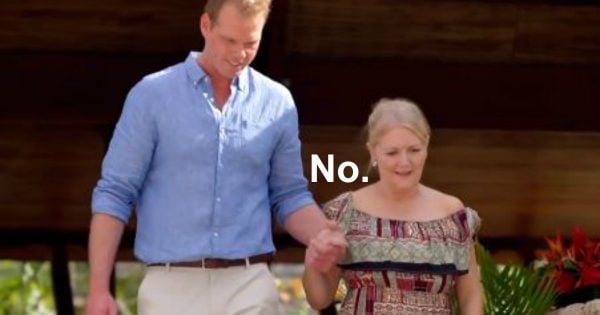 He tells her how much he loves her daughter and she cries and calls him "very special" and then they kiss and run off together.
NOW IT'S FINAL SINGLE DATE TIME AND JARROD CAN FINALLY TELL US HOW HE FEELS EVEN THOUGH HE'S BEING DOING THAT FROM DAY ONE.
Sophie and Jarrod go on a helicopter ride and say interesting things like, "look how blue the water is," and, "look how white the sand is," and Jesus enough now pls.
They land on a... sand bar in the middle of the ocean, and honestly Jarrod's skin was not designed for this level of UV exposure he needs an umbrella why did Osher not think of this.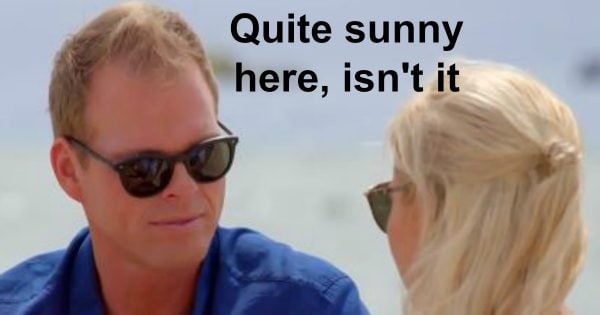 He pours his heart out to Sophie, saying that the person he is IS ALL FOR SOPHIE, and then she responds, "I care about you," at which point he... he convinces himself he's won the whole competition.
"You are in the hardest situation you can possibly be in," he says and to that, we have just one thing to say and then we'll move right along:
Syria. 
Somehow, it's taken Sophie this long to realise that Jarrod is less of a partner and more of a... servant. She feels weird about it, so asks him if he has any human needs, and he insists it's just to keep Sophie happy.
Then he goes rogue AF.
Jarrod says he's never felt this way about anyone and he wants a family and they will grow old together and as a person he will only get better as a husband and a father.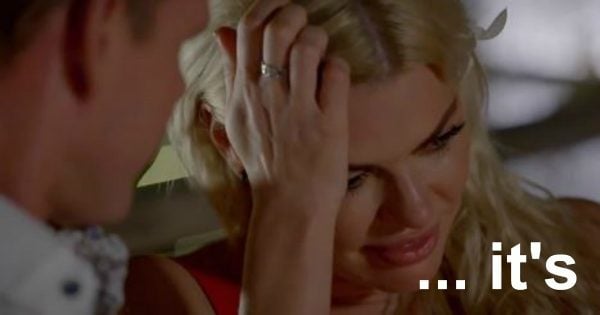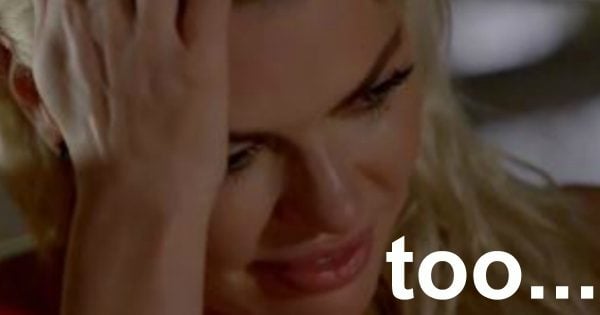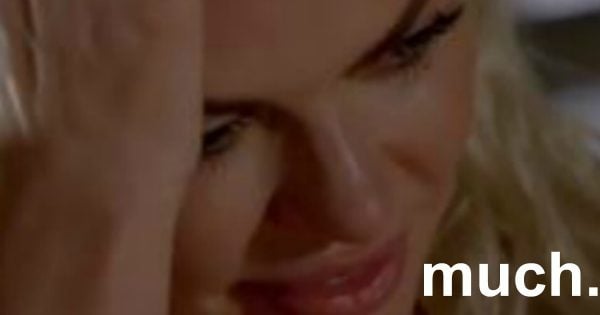 It's at this point that we reflect seriously on the inevitable: How brutal it will be when Jarrod gets his heart broken on national television in approximately 25 minutes. We don't... want it.
It's Stu's turn, and look. We think Stu might be better in Fiji. He seems relaxed. A bit... chill. He hasn't brought up the time Sophie turned down his boat invitation once.
They go snorkelling and Stu says that what he and Sophie has is really 'you-nique'.
But... Stu has caught the feelings. 
He be... crying.
Stu tells Sophie he is in love with her and something about how she put him back together because he used to be so unhappy. It's weirdly romantic and we feel emotional about it??  IDK, IDK.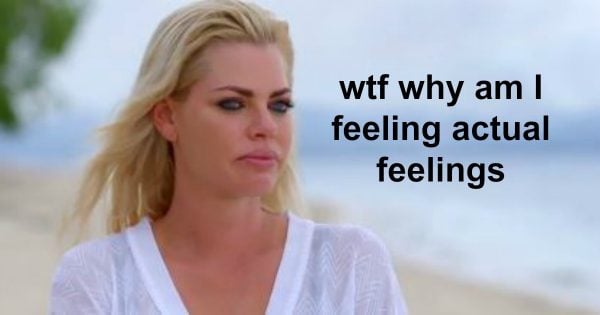 IT'S FINALLY TIME FOR SOPHIE TO MAKE HER DECISION SHHH EVERYONE. SHUT UP.
And we feel safe.
Because Osher is waiting.
We think he's been waiting there for 10 or so hours, but that's okay. Because after this, he gets to go on a real holiday, where he doesn't have to stay in a sub-par villa alone while everyone else gets to have all the fun.
But right now it's Osher's moment. Because he promised Sophie Monk he would find her love on the television, and he feels like he may have done just that.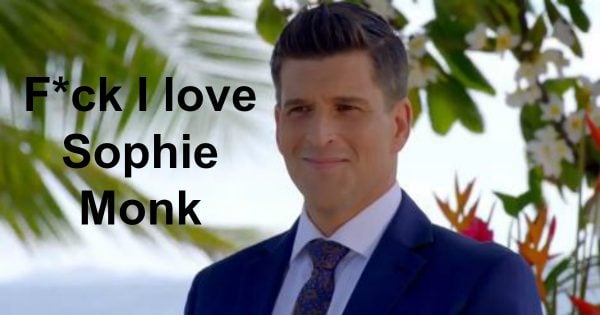 He can't organise a game for shit, but Osher is good at the love.
"Would you go so far as to use the 'L' word?" he asks, with a smirk, and Sophie replies, "Yeah I would. I know I'm in love."
No. 
Osher loses it.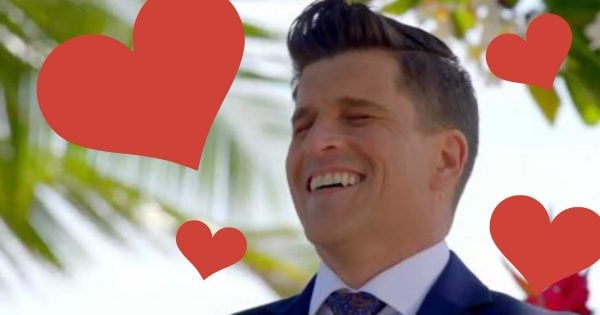 STOP THE MEN ARE SAILING THE HIGH SEAS.
Whoever arrives first is obviously the loser and...
IT'S JARROD AND THE VIOLINS HAVE BEGUN.
Osher looks like he could cry because he feels so sad for him. No one ever wants to be looked at the way Osh looks at Jarrod.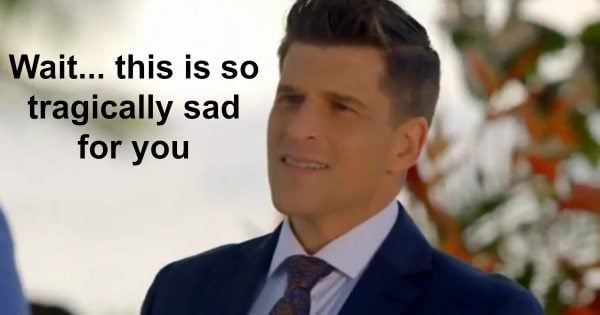 He walks over to Sophie, his face full of hope.
And then his soul is destroyed in front of the entire country. Sophie tells Jarrod her heart doesn't belong to him, sending him on his way, along a never-ending expanse of beach which feels particularly cruel.
"You finally find a purpose in life.. thinking you have a future with this girl and everything's looking up and yeah it hurts."
He is... broken.
He says she's the girl he wants to grow old with and he will ALWAYS LOVE HER AND NO MAN WILL EVER LOVE US AS MUCH AS JARROD LOVES SOPHIE. WHY DID WE MAKE FUN OF HIM WHEN ALL HE WANTED WAS TO BE LOVED. WE REGRET EVERYTHING.
LISTEN: Michelle Andrews and Zara McDonald discuss the heart wrenching finale on the last episode of Bach Chat. (Post continues...)
Now it's time for Stu.
And wait a f*cking minute. 
Imagine how much time we could have saved if Sophie just went on Stu's goddamn boat a year ago. This is the SECOND season in a ROW where the winner had already MET the Bachelor/Bachelorette.
WE JUST GOT PLAYED AND WE DON'T APPRECIATE IT AT ALL.
Sophie came on The Bachelorette  because she didn't like the kind of guys that asked her out and Stu asked her out a year ago and she barred him.
But enough of the logic.
Stu walks up to Sophie, and she apologises for misjudging him, and says, "I'm in love with you".
And we're SOLD.
Everyone cries and we feel like crying but that's ridiculous.
We've been played and we don't even care.
But... we wonder what Jarrod's going to do with his pot plant?
UNTIL NEXT TIME.
You can follow Clare and Jessie Stephens on Facebook, here.