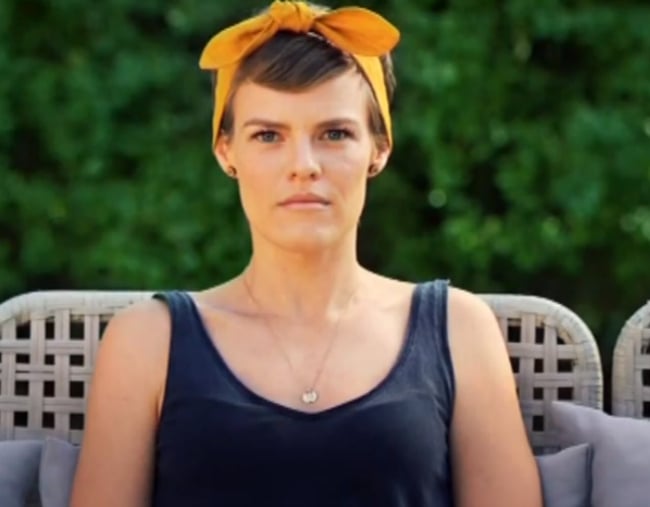 Up until 18 months ago, Donna Nottage had a "pretty awesome" life.
Between her two young boys, her loving husband and her beachside home in Victoria's Mount Martha, the 33-year-old had little to complain about.
Then she was diagnosed with a malignant brain cancer. Or as Donna puts it in her short film on living with brain cancer – Terry the Bastard moved in.
LISTEN: Marilee Mai's 5-year-old daughter Milan was diagnosed with a rare brain cancer a year ago, now she's doing everything she can to save her girl. Post continues.
While Donna's diagnosis would make most of us want to hide beneath the doona and wallow in our misery, the Victorian mum refuses to focus on the negatives. So when she was asked to share her story on The Project on Tuesday night as part of a fundraising drive for Carrie Bickmore's charity Beanies for Brain Cancer, Donna chose to do so in the form of an ultimately upbeat short film.
Donna explained that Terry, who is represented in the clip as a fuzzy black blob, comes from a world of black and white, but has also taught her to see the colour in life.
"Terry is like the worst house guest you can imagine. He turned up on Christmas Eve – first Christmas as a family of four – completely unwanted, uninvited and without gifts for the boys," she said.
"All of a sudden I was in hospital instead of unwrapping presents with my beautiful little family on Christmas morning."
Donna said that what Terry has helped her appreciate are the small things in life.
Donna talks about losing her hair in this short film by The Project. Post continues.
"A moment with my kids, a glass of wine with a close friend an intimate laugh shared with my husband in a quiet moment about something silly – this is what I live for.
"These moments, these people, this colour are worth more than all the money in the world – and ironically, Terry the Bastard, has taught me that."
Donna said that she'll continue fighting, but she'll also keep savouring moments spent hugging her sons, Huxley and Reeve, as she never knows "when the day will come when it could be my last".
"So yes, I wish Terry didn't exist, I wish he'd pack his bags and move out of my head, I wish this bastard never entered my life with his black and white – but I'm focused on the colour."
Terry the Bastard can't stop Donna from seeing all the colour in the world #TheProjectTV pic.twitter.com/Bo4RDbKYl3

— The Project (@theprojecttv) May 1, 2018
You can buy one of Carrie Bickmore's beanies and raise money to fight brain cancer at Carrie's Beanies for Brain Cancer.