So far, Australia has been pretty spoilt with successful Bachelor couples.
Aside from the incident with 'He Who Shall Not Be Named' *cough Blake*  and a few strays along the way, our Bachelors and Bachelorettes have done well. We've even got a couple of engagement rings and a baby to prove it.
Now, parched Bachelor fans have a new reality TV dating show to look forward to – our very own version of Bachelor In Paradise.
Set to be a glorious hybrid of The Bachelor, Big Brother, I'm A Celebrity and Love Island, hype has been building for weeks since Network 10 first revealed the successful American Bach spin-off would be hitting our shores.
Finally, 10 has given our sad souls a scrap of hope, serving up six of the dozen or so former Bachelor/Bachelorette favourites who will be endeavouring to find love on a tropical island in 2018.
With Tara Pavlovic (Bachelor season five), Keira Maguire (Bachelor season four), Davey Lloyd (Bachelorette season one), Apollo Jackson (Bachelorette season three), Laurina Fleure (Bachelor season two) and Michael Turnbull (Bachelorette season one) locked in and ready to feel the love, Australians – including us – are already blocking out a solid six months of mental space to dedicate to their on-screen escapades.
REVEALING: Tara, Keira, Davey, Michael, Apollo and Laurina are headed to paradise! #BachelorInParadiseAU. ???????? pic.twitter.com/1lwio7Pk3B

— BachelorInParadiseAU (@BachParadiseAU) November 9, 2017
But before we all go getting overexcited about Tara and Apollo riding off into the sunset on one of his miniature ponies, there are a couple of things viewers, as well as the soon-to-be Bachelor In Paradise contestants should consider…
Because if the US version is anything to go by, you can bet it's not going to be the rose coloured love fest we're used to.
The format
Let's get one thing straight right off the bat… Bachelor In Paradise is not a reality dating show. Drop the 'dating' and what we're left with is a reality show about a bunch of people who will inevitably kind of hate each other's perfectly toned guts when it's all said and done.
The show is not about them finding love. It's not even about them. It's 100 per cent about us and the voids in our hearts.
Also, the show's Love Island-esque format isn't exactly conducive to successful long term relationships. Not that 22 women dating one man at the same time is, but you know where we're going with this.
With weekly 'dumpings' and multiple intruders dropping by to stir the pot, the chances of contestants – who will most likely have met each other in the Birdcage or at the Bondi Icebergs already – finding genuine connections on Bachelor In Paradise are slim. But by God it'll be darn entertaining watching them try.
Listen: Laura Brodnik and Clare Stephens unpack exactly why you'll care so much about Bachelor In Paradise (post continues after audio…)
The draaaaama
Bachelor fans are no strangers to on-screen drama. In fact, we live for it. But be warned: Bachelor In Paradise drama will be on a whole other level.
There are so many extra factors to consider that will ultimately deliver audiences levels of backstabbing and LOUD NOISES we've yet to see.
For one, the island will be inhabited purely with former Bach villains and larger than life personalities. Sure, the likes of Keira and Laurina were powerful on their own. But together, all trapped on the same few hundred square metre patch of sand, yelling over the top of one another? It'll be chaos.
Also, we have to remember the mix and match nature of their relationships will cause an infinitely higher level of hurt and betrayal. Rejection can make humans do crazy things, right?
And just to top it off, it'll be almost impossible for contestants to avoid talking about their experiences and actions on their respective Bachelor/Bachelorette seasons. And we all know how bringing up exes with new love interests goes…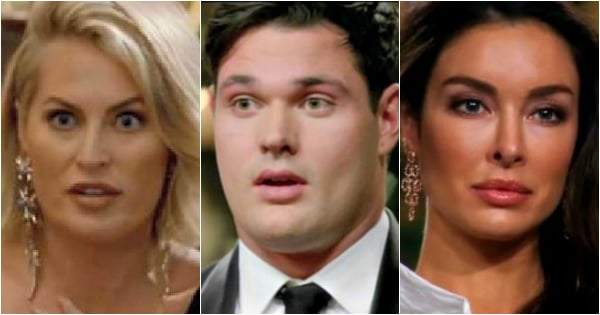 The scandals
Unlike its relatively 'vanilla' counterparts, past seasons of the American Bachelor In Paradise franchise haven't been so squeaky clean. Sure, Matty J's The Bachelor gave us 'secret' topless party planners (so shocking!!!). But next to the US series, those 'indiscretions' are about as explosive as a box of wet matches.
We might not be ready for the level of sexual antics that will likely occur on Bachelor In Paradise. The whole thing will have a bit of a 'summer fling' vibe, lulling contestants into a false sense of 'what happens on tour, stays on tour' security.
Women will be kissing MULTIPLE MEN. Men will be kissing MULTIPLE WOMEN. And if the godfather of love, Osher Gunsberg, doesn't think we're ready for the Fantasy Suite and overnight dates on The Bachelor, how do we think we're going to handle PDAs in bikinis and budgie smugglers on a weeknight? Yeah, thought so.
No matter how things on the tropical island of flirting, shouting and shirtlessness pan out, we'll be there watching every sordid detail. Gird your loins people.
Gird. Your. Loins.