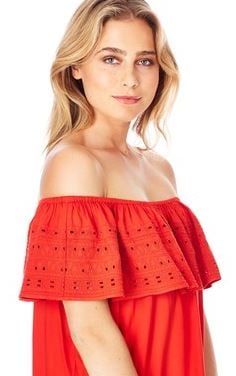 WHAT IS IT?: Red off-the-shoulder embroidered dress. Described like this: "An on-trend off-the-shoulder style and embroidered ruffle brings a contemporary update to this easy-wearing dress. Style yours with a hat and sandals.
+ Off the shoulder
+ Embroidered ruffle
+ Slip on style
WHY DO I NEED IT?: Because it's summer and it's pretty and you can wear a strapless bra underneath and it covers your upper arms and flashes your shoulders and every woman has good shoulders. Also, it's cheap.
CAN I WEAR IT ON CHRISTMAS DAY?: You really can. What an excellent idea. Put some tinsel in your hair and you've nailed festive fashion.
WHAT WOULD I WEAR IT WITH?: Thongs, sandals, trainers… even heels if you're game, but flat shoes will make it feel more summery.
IT LOOKS GREAT ON THE MODEL BUT WHAT ABOUT ON A REGULAR WOMAN?: Funny you should ask. We first discovered it on the Instagram page of fashion blogger, mother of two and former magazine editor, Paula Joye. How great does she look?

WILL IT DATE?: Nah. Red is practically a basic. And the style is simple and classic.