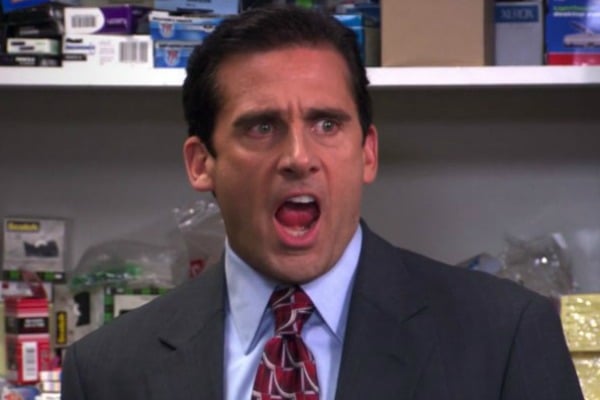 Warning: This post contains spoilers for The Office. Proceed with caution. 
As the coronavirus outbreak continues to spread across the world, two very distinct types of people have emerged.
There are the people who are watching movies about viruses and pandemics, like Contagion and World War Z. (If this is you, we have so many questions. Just… why?)
And then there are the people who are taking comfort in watching the ultimate feel-good movies and TV shows.
Listen to the latest episode of Mamamia's daily entertainment podcast, The Spill, below. Post continues after podcast.
Whether you're in self-isolation mode, working from home, or simply trying to find a break from the news cycle, a lot of us are turning to screen time right now.
And while it's a pretty good time to start a brand new series, we all know that we're probably just going to return to our old favourites.
Yep, it's time to watch The Office for the 564th time in a row.
In case you've never seen it, The Office is a mockumentary series which follows the daily lives of the employees at Dunder Mifflin Paper Company in Scranton, Pennsylvania.
The series also stars a bunch of hilarious actors including Steve Carell, John Krasinski (!!!), Jenna Fischer, Mindy Kaling, and Ed Helms.
In celebration of the show's 15 year anniversary (and the fact that we strongly suggest binge-watching it all over again), we decided to take a look back at the 14 funniest moments from The Office.
You can thank us later.
When Michael declared bankruptcy. 
When Creed advised Michael to declare bankruptcy, Michael responded by literally walking around the office and shouting, "I declare bankruptcy!" Yep, Michael actually thought that was all he needed to do to declare bankruptcy.
"I just wanted you to know that you can't say bankruptcy and expect anything to happen," Oscar told Michael.
"I didn't say it, I declared it," he responded.
When Pam recalled her aunt's heartbreaking story.
In season three, Michael insisted on some office group therapy. When asked to share her story, Pam recalled the heartbreaking story of her aunt, which coincidentally followed the plot of Hilary Swank's character in Million Dollar Baby.
When Kevin dropped his chilli on the ground.
After staying up all night to make his famous chilli, the ever-clumsy Kevin dropped the entire pot on the ground.