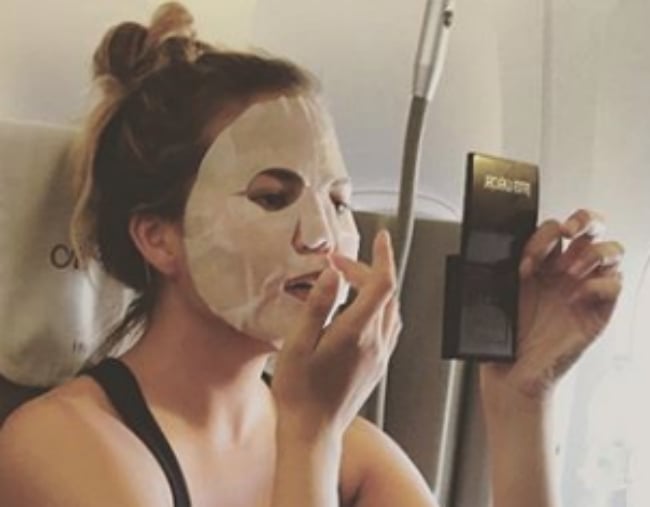 Read any interview with a big celebrity and there's at least an 82 per cent* chance they'll share the same travel beauty trick – a face mask on the plane to keep their skin hydrated in the dry cabin conditions.
Sounds simple, right? Wrong. So wrong.
How do I know? Well I found out the hard way. I decided to take their advice and give it a go myself on a recent flight. A long-haul flight. I felt quite smug, to be honest.
I'd packed a celeb-approved sheet mask in my hand luggage, got out my book and settled into my seat. I was basically Margot Robbie.
It was about five seconds after applying it that a major flaw quickly became apparent.
You see, I'm willing to bet my (very paltry) savings that these celebrities are not flying economy. In economy you're shall we say 'cozy' with your next-seat neighbour. In fact, you're probably closer to them than you've ever been with anyone voluntarily. Which makes it, erm, quite awkward when all of a sudden they turn to you, maybe to ask you to stop hogging the arm rest, and see you wearing a sheet mask that makes you look like a serial killer.
So there I am, on what will be a 14 hour journey, doing my best horror film character impression to the poor (and bemused) man who had the misfortune to sit next to me.
Needless to say it came off quite quickly. My face was burning – and not from any of the skincare ingredients..
What these celebrities really should disclose when they share this 'hack' is that they're most likely in business or first class, in their own cubicle bigger than my bedroom, where no-one can really see them. Maybe they even have the whole plane to themselves.
THIS IS IMPORTANT INFORMATION.
Because no-one, no-one, looks good in a sheet mask. It's almost as bad as that moment when you're at the hairdressers after having your hair washed and you look in the mirror and see an actual frog.