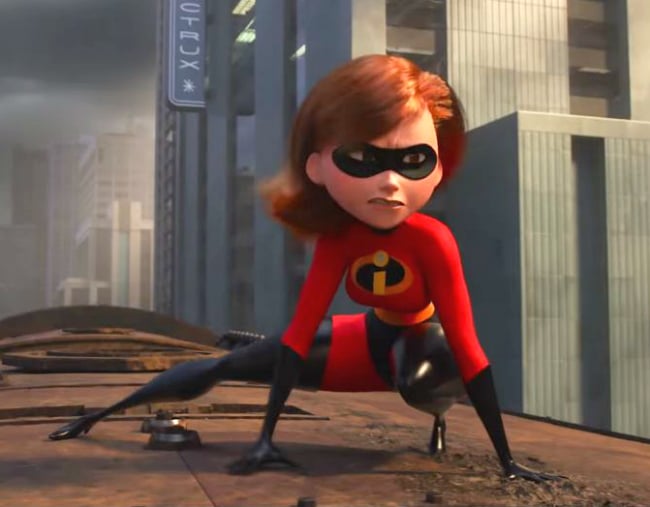 I recently had to travel interstate for work and braced myself for the inevitable question: "Who's looking after the kids?"
My answer? "Their very capable dad."
The look that greeted me was one of confusion tinged with a sprinkle of judgement, as if I'd said my kids were being babysat by a wolf pack in the African jungle while I binge-drank in Bora Bora.
Despite all the progress we've made in championing women in the workforce, I run into gender stereotypes everywhere I go – at the park, at kinder drop-off, at work and during random conversations with strangers. We've made a lot of progress since Nanna was tied to the stove in a floral apron, but we have a fair way to go.
That's why I was so thrilled to watch the trailer for Disney Pixar's Incredibles 2. Why do I love it so much? Where do I start?
Fourteen years after the original film, the sequel is shaking things up with Elastigirl (aka Helen, the Mum, voiced by Holly Hunter) taking the lead. As the face of the 'Supers' campaign, Helen starts a demanding new job while Bob/Mr Incredible (voiced by Craig T. Nelson) has to navigate his way as a stay-at-home dad to Violet, Dash and baby Jack-Jack.
The reversal of traditional gender roles doesn't go too smoothly as Bob deals with a moody adolescent, a fussy eater and a baby with a tendency to self-combust courtesy of his emerging superpowers.
In one scene, a fluffy-robed Helen rings from a plush hotel room to check how things are going at home. Bob says "Everything is great" – except everything is most certainly not great.
Bob is struggling to understand modern-day homework, his daughter's mood swings are escalating, he keeps losing the baby, and the kids are eating waffles for dinner. While Bob is developing a new appreciation for the hectic nature of stay-at-home parenthood, Helen is showing her kids that gender shouldn't limit their career choices. They're both heroes.