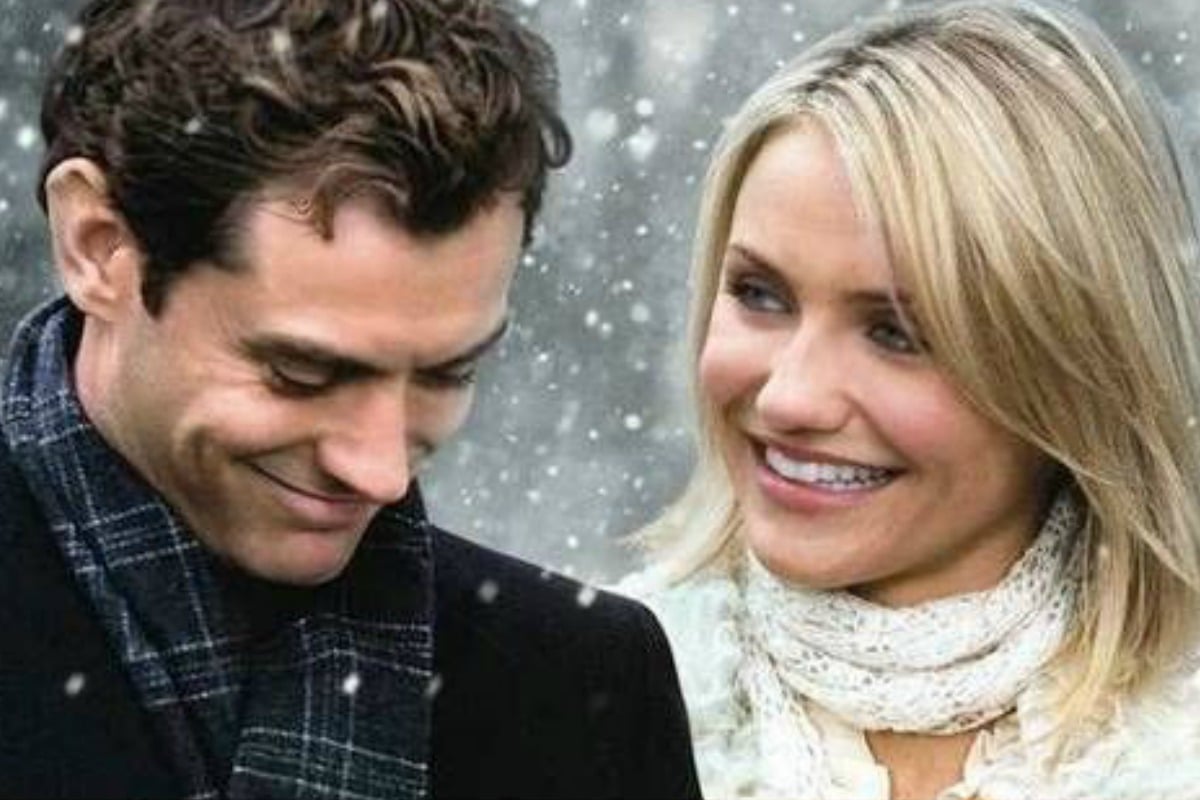 Don't get me wrong, I'm a sucker for The Holiday.
The decor, soundtrack, and casting is to die for. Not to mention the styling, and whoever found Jude Law that pair of glasses.
There is nothing quite like a Nancy Meyer movie. But sometimes… there are a few plot holes.
There's nothing major, but it's just… we can't not discuss this. ¯\_(ツ)_/¯
1. The Houses.
Kate Winslet, who plays Iris, is a journalist. Her "quaint" cottage on what appears to be acres of rolling hills in the heart of Surrey, England is… expensive. It's classic, cosy and huge for a cottage. And that's not even mentioning the fact that the trains in and out of London from Surrey every day would cost her an arm and a leg.
Then, of course, there is Cameron Diaz's Los Angeles mansion. Call us naive, but could a trailer editor really afford an LA mansion? We think not.
2. The kids have mobile phones.
When Graham answers the phone to both "Sophie" and "Olivia", the viewer is originally under the impression that these women are other ladies that Jude Law is seeing. But we later find out that Sophie and Olivia are his toddler daughters, who would… not have mobile phones, especially one each.
3. Kate Winslet has her own office.
In the opening scenes of the film, we're introduced to the fact that Kate Winslet, who plays Iris, is some form of a social events journalist. Any journalist would understand that a private office is as mythical an occurrence as the Loch Ness monster. In fact, a journalist having a private office is less likely than the Loch Ness monster existing. That's a fact.
4. The Swap. 
Okay. Let's be honest here, what is the likelihood that the tenant of the first house Cameron Diaz decided to look at on the house swap site (which is real, btw) was willing to go to Los Angeles at a moment's notice? Not… likely. At all.
5. Cameron Diaz's driver not being able to turn around at the end of a lane.
When Cameron Diaz's driver is unable to drop her off at Iris's cottage in the opening scenes of The Holiday, she is forced to walk miles in stiletto heels. The driver insisted he would be unable to turn around at the other end. But then… in the final scene as Cameron Diaz prepares to head home, the exact same driver is waiting OUTSIDE her house.
6. That DVD collection. 
I understand that it was 2006 when this movie was made but the DVD collection is… too much.
No single human could possibly have a DVD collection that took up an entire wall.
An IMDB user has also pointed out that there are two copies of The Glass House on the shelf, too.