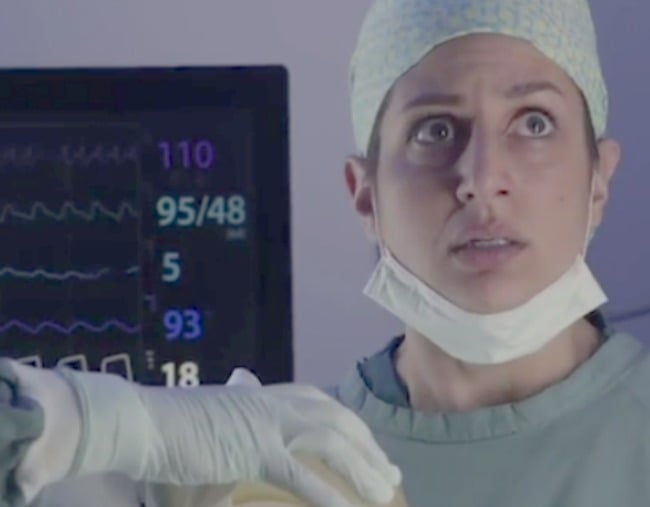 On Sunday night, as I was watching Channel 10's latest offering Skit Happens, part of the network's Pilot Week, I witnessed a moment that deeply disturbed me.
In promotions for the show, Channel 10 excitedly announced, "nothing is safe from a Skit Happens parody". But one sketch went too far.
For those who weren't watching on Sunday night, Skit Happens attempted to send up Channel 7's The Good Doctor – a medical drama about a young doctor with autism and savant syndrome.
The skit depicted a mock TV trailer for The Good Hospital, "where everyone is on the spectrum". Four doctors, operating on a patient, were shown essentially unable to perform their jobs because of their autism.
"Scalpel, may I have the scalpel please, I need the scalpel now, I will save his life, scalpel" says a male doctor, before another male doctor starts singing, "I have the scalpel, it's shiny, and very sharp. Scalpel, it's mine".
Watch the skit on Channel 10's Skit Happens. Post continues after video.
When a female doctor refers to 'losing' the patient, another doctor responds, "no, no, he is not lost, he is right here".
At one stage, all four doctors start inexplicably making beeping noises and acting like robots.
The scene, needless to say, entirely generalises the behavioural traits of those with Autism Spectrum Disorder (ASD).
In response to backlash on social media after the skit aired, a Channel 10 spokesperson said that the show is "intended purely to provide laughter, comedy and entertainment".
Laughed at the Matt Preston joke, but then Good Hospital happened. You can make an autism joke, just make it funny. #SkitHappensAU

— munkeygurl (@munkeygurl) August 19, 2018