Have you ever noticed how tiny John Travolta's beard is? It's really small. Like, very, very small. Or at least, it was around the year 2014. In fact, perhaps it doesn't even qualify as a beard; it's more an infinitesimal island of facial hair that set itself up on John Travolta's face and refused to leave. It can't have been an aesthetic decision, surely not. Perhaps it's hiding something, some sort of grotesque chin abnormality. Perhaps it's in a movie contract. Whatever it is, the discovery of John Travolta's tiny beard was perhaps the greatest moment of friendship celebration I've had in an office environment.
Circa 2014, my friend Rosie and I were browsing the Internet (it was our job to do so, at the time) and came across an article by a very funny Australian journalist called Nick Bond. Nick announced the debut of the tiny beard with a full photograph of John Travolta, in a suit, on the red carpet. What followed was a series of photos, each zoomed in slightly more than the last, until the final one, which was literally just the offending facial hair in question. Something about the simple genius of this article really tickled Rosie and me. We came very close to printing it out and wallpapering the entire office with it.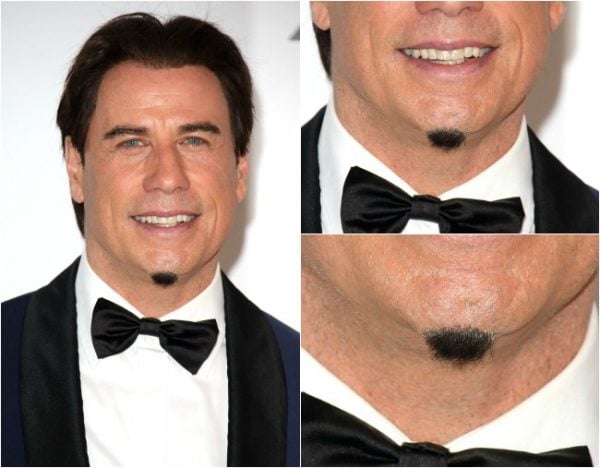 And then there was the twist: Rosie had been to a red carpet event in LA and actually had a photograph taken with John Travolta and the tiny beard. Her face was nearly touching the beard as they leaned in for a selfie. She brought the photo up on her laptop and by this stage, we were screaming. We were in such fits of giggles there was no chance of us doing any proper work all afternoon. We cried actual salty tears of happiness. When someone went to a meeting or the bathroom, we'd change their screen saver to a picture of The Beard. I don't think I've ever laughed so hard at anything in my life.
And that's what work friendship can be like: magnificent and funny and irreverent. It can make work a joy, and can literally change your entire attitude to getting up every morning and turning up at the same place every day. Good work friends are total game changers. Sure, they can be a huge distraction — whispering about your latest Tinder date as you mainline free cookies over the sink and dedicating entire email threads to Ryan Gosling's true feminist intentions are not, strictly speaking, what your boss would consider the best use of your time — but I'd argue everyone needs a certain level of escapism built into their corporate lives or they'd go mad.